Jonathan Trott: Opening for England may be best option
Last updated on .From the section Cricket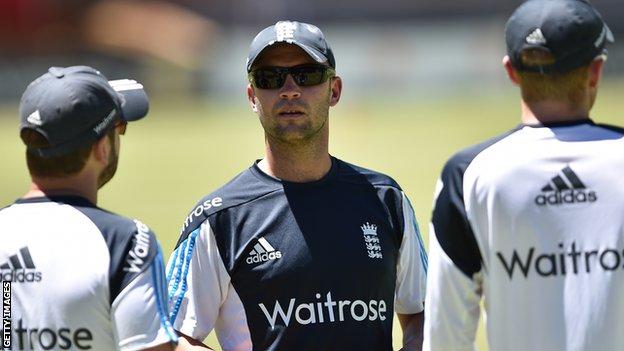 Jonathan Trott has suggested that returning to the England side as an opener may be the best option for him.
England have not settled on an opening partner for Test captain Alastair Cook since Andrew Strauss's retirement.
Trott, 33, has not played for the full England side since leaving the 2013-2014 Ashes series with a stress-related illness.
"Sometimes at number three you can sit there and live every ball and maybe work yourself up too much," said Trott.
"Whereas as an opener you know you have just got to go out there and bat, that's your job," he added.
"So in some ways [being an opener] is actually better."
Trott completed a double century for the England Lions against South Africa A, hitting an unbeaten 211 which prompted former captain Michael Vaughan to call for him to take over at the top of the order.
"It's obviously a bit different but the person in possession, Sam Robson, is a very good player and Adam Lyth is a very good opening batsman as well so there's lots of competition for getting back into the England side," added Trott.
"Who knows what the future holds. There's some very good cricketers around in England so the competition is very high."
Former England captain Michael Vaughan
"England will want Trott back in. They will be looking to see if he can fill that role alongside Alastair Cook. I wouldn't rule out the selectors looking at Trott to open alongside Cook."
It has not all been good news for Trott on his return to his native South Africa, given he was out for a duck in his last innings.
But Trott, who described the feelings he suffered two years ago as like "when a snowball gets too big it hits something and completely explodes", has learned to deal with the highs and lows.
"I got 200-odd in the last game and then I was out for nought as I hit it straight to a fielder," he added.
"It's one of those things. In sport, and in life as well, things go your way and sometimes they don't.
"You have got to have a bit more perspective on the whole thing. It is just a game of cricket in the end, it's not really life and death as I perceived it to be a year ago."