Andrew Flintoff: Freddie on England, Big Bash & Eoin Morgan
Last updated on .From the section Cricket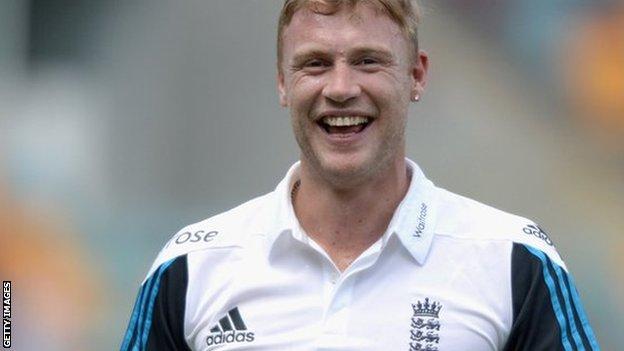 Andrew Flintoff believes England's one-day team are "on the verge of doing something special" following their nine-wicket victory over India.
The former England all-rounder was speaking during a wide-ranging interview with Test Match Special's Charles Dagnall during the interval of Tuesday's tri-series contest.
He also spoke about his spell with Brisbane Heat in the Big Bash, the future of Twenty20 cricket in England and why he recently felt like Superman.
BBC Sport picks out the best bits of the interview...
On England's chances in next month's World Cup
"England are on the verge of doing something special in this form of the game. I feel sorry for them a little bit because there's a lot of baggage they carry around in one-day cricket. It's not their fault, it's everybody who went before them.
"We need to realise we have never been any good at one-day cricket - even when I was playing. I played in three World Cups and didn't get anywhere in any of them, but for the England team now it's a chance to blaze a trail and form an identity."
On Eoin Morgan taking over as captain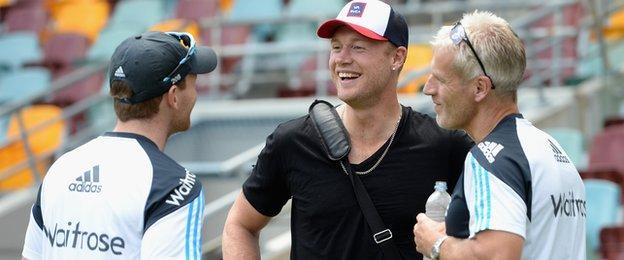 "Eoin Morgan taking over as captain is a great move. I do feel for Alastair Cook - I'm a massive fan of his and as a captain I don't think he gets the credit he deserves - but I think the time was right.
"Eoin is one of the best players we have in one-day cricket and with the team itself, I don't think it's a case of whether you or I believe they can win the World Cup - it's about if they believe they can win it.
"The belief will grow with performances like today (against India). Bowling out India was a fine sight. They have got fine players. With the personnel they have, they can really form a formidable side going into the World Cup."
On training with England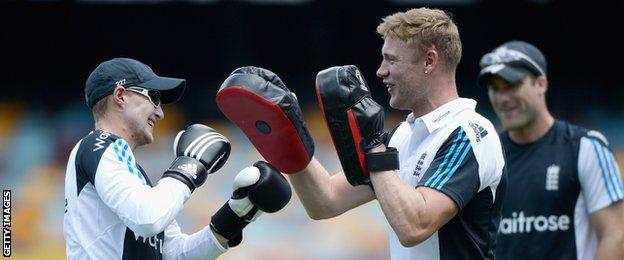 "I got an email from Stuart Broad saying he and Ravi Bopara had been put in charge of getting ex-players to come into training and asking if I fancied it. Of course I did.
"It was nice to be around the team because one thing England have been bad at over the years is getting ex-players involved. It's for a host of different reasons - lads go into the media and criticise and they can become harsh on the players, so I think they have alienated themselves a little bit, but the England side now are interested on drawing on people's experience.
"For me it was a great day out. I got some kit and putting the three lions back on is amazing - it's like a suit of armour. When Clark Kent goes into a phone box and comes out in his Superman suit, that's what the England kit does to you. It makes you feel bigger, faster, sharper."
On playing in the Big Bash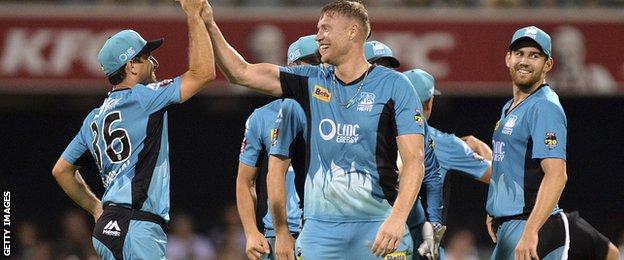 "I was only meant to be playing three games, but when I landed in Brisbane I was told I was going to play all of it. I had gone from zero degrees in my car and going to my local gym to a 38 degree net session.
"It was a baptism of fire but the lads in the dressing room accepted me for what I was doing - I was trying my best but it wasn't as good as I thought I could have been. It was nice to score some runs, but it would have been good to have taken a few more wickets and to have helped the team a bit more."
Will he play for Lancashire next season? "At this moment in time, I don't know."
Should English cricket adopt a franchise T20 system?
"We've got to realise that cricket is competing against all other forms of entertainment. In England, football dominates everything and cricket is being left behind. I would be for franchise cricket in England. I know it's a tricky one with the counties but it's working.
"Look at the Big Bash in Australia. The players need to buy into it too - that it is a form of entertainment - so too the people reporting on the game. It's about celebrating cricket as a whole."
On Kevin Pietersen's Big Bash involvement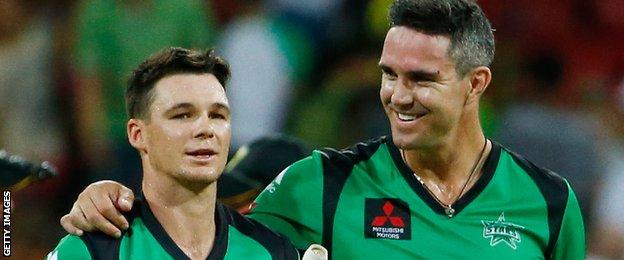 "To be fair to Kevin, he's been fantastic in the Big Bash. He's gone on commentary, he's been funny, he's spoke well and his batting... I tell you what, he's back.
"He was playing all right at the start of the tournament, but every time he went out to bat he was a bit hectic and every time he batted he looked like he was trying to prove something - now he's calm and he plays like we all know he can.
"That comes from him being settled with his team-mates and the fact he is liked over here. I think Kevin needs that and wants that."
On sledging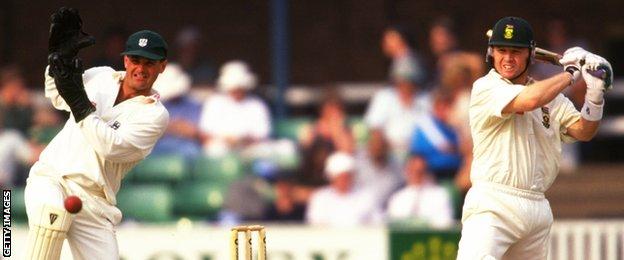 "Twenty years ago, sledging was 10 times worse. Now, with stump microphones and cameras all over, everything gets picked up.
"The Big Bash has been played in such a great spirit. I played against Ben Stokes and got stuck into him but it wasn't abusive or horrible, it was fun. I'm not sure it was even aggressive.
"One of the first Test matches I played against South Africa, there was one fella who was a batter. He fielded at gully - I won't mention his name - but he was the worst I have ever come across. Daryll Cullinan! He was horrible. I was only young... the words he called me, I didn't even know what they meant.
"He just went at me and I don't think there's any place for that in any sport or any society.
"I don't mind the odd chirp - Adam Gilchrist was fantastic at it because he'd do enough to put you off but not enough to upset you. Shane Warne was similar. It seems you can walk onto the field, say anything you want about somebody and then walk off and forget about it.
"You wouldn't walk into somebody's office and let rip at them for 10 minutes and then go for a cup of tea.
"As people you know the difference - you know right from wrong."