Kevin Pietersen calls for franchises in English T20 cricket
Last updated on .From the section Cricket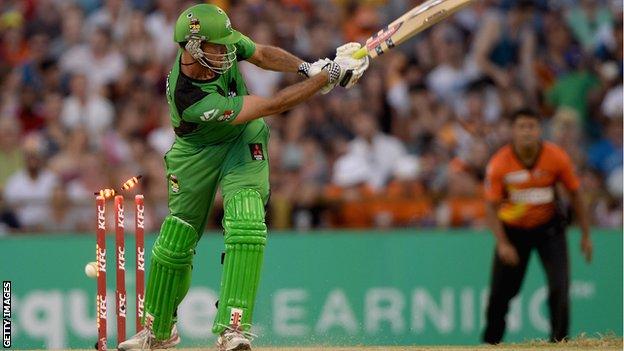 Former England batsmen Kevin Pietersen and Michael Carberry say English Twenty20 should adopt the franchise system used in India and Australia.
Both played in this year's Australian Big Bash League, where there are eight city franchises instead of state teams who contest longer forms of the game.
"The franchise system works, everybody has made it work, the whole world has gone that way," Pietersen said.
"Why can't they do it in England? It's strange."
The Big Bash League spans six weeks, with a match almost every day, while England's T20 Blast, featuring all 18 county sides, lasted over three months in 2014 and will do so again this year.
County cricket is also reportedly set to lower salary caps, with sides encouraged to bring through players from academy ranks.
But Pietersen said: "What's frustrating is they say they want to help home-grown players. The best way to make them become better is to play against better players.
"All the muppets who are on £18,000 or £15,000 - either you become better or you go and do something else.
"The best players would play against each other, week in week out. That's how you become better. You don't do that by reducing salary caps."
Carberry, whose Perth Scorchers team beat Pietersen's Melbourne Stars to reach the Australian Big Bash League final, told BBC Sport that franchises would be welcomed by players in domestic English cricket.
"I know for a fact the players over the years have been voting for franchise cricket," the Hampshire batsman said.
"We've been trying to drive that machine for quite a while, but for reasons beyond me it's always fallen flat on its face.
"You just have to watch a game here (in Australia), and you get just a small flavour of what the atmosphere is like at one of these games. The sheer interest levels are unbelievable. Something's surely got to be done back home."