Warwickshire: Bears report £230,000 profit for 2014 season
Last updated on .From the section Cricket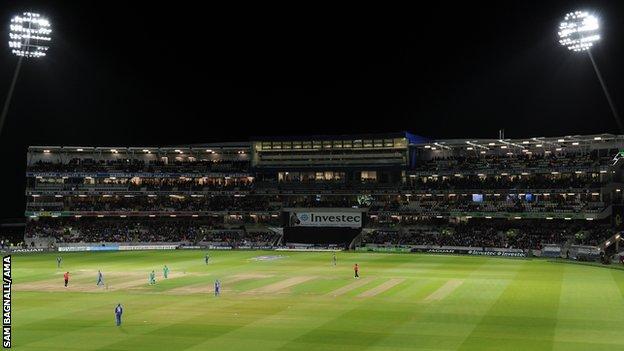 Warwickshire have recorded a £230,000 profit for 2014, the season in which they won the domestic Twenty20 competition for the first time.
"In 2014, we didn't stage a Test match for the second year in succession," said finance director Craig Flindall.
"Despite this, ticket sales for the major matches that we did host were largely in line with budget.
"T20 Blast finals day was the highlight both on the pitch, securing our first T20 title, and in financial terms."
The Bears' victory, in their first season playing under their newly-marketed T20 guise, helped Warwickshire's turnover increase by 7% from to £11.74m to £12.5m.
The county's primary profitability measure, EBITDA, increased by 15% from £755,000 to £1.43m to £1.66m - their best figures since 2009, when the figures were boosted by hosting an Ashes Test.
What exactly is EBITDA?
Earnings before interest, tax, depreciation and amortisation (the reduction of the value of an asset)
Chief executive Colin Povey said: "At the end of 2014 we secured a valuable package of major matches from the International Cricket Council and England & Wales Cricket Board covering 2017 to 2019.
"This will further underpin our business plan, particularly as we anticipate further major match awards in the spring."
In 2015, Edgbaston will host the third Test in the Ashes series between England and Australia (29 July-2 August), with the middle three days already close to a sell-out.
In addition, Edgbaston will host T20 Blast finals day for the third year in succession (29 August) and an England-New Zealand one-day international on 9 June.
They have also been awarded 2017 Champions Trophy ties, as well as a further Ashes Test and the World Cup semi-final in 2019.
"This was essential," added Povey. "It ultimately reduces the financial risk the club faces in the medium term."