Heather Knight: RAF simulators & Lord's dressing room photoshoots

By Heather Knight
England vice-captain
Last updated on .From the section Women's Cricket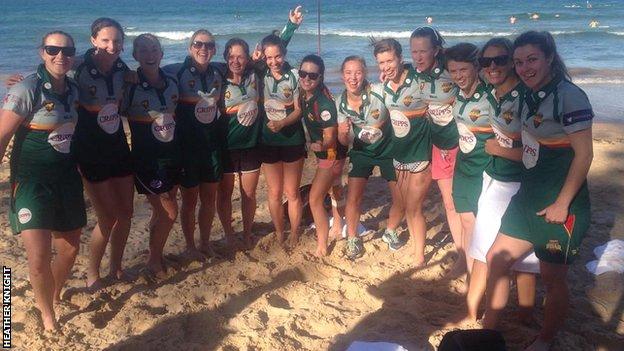 England vice-captain Heather Knight's latest BBC Sport column reflects on a busy winter and looks ahead to February's tour of New Zealand.
After three months out of the country, you can imagine my excitement at coming in to land at Heathrow - despite a 40-degree drop in temperature!
One of the best things about being an international cricketer is getting to travel the world, but for me there's nothing better than coming home.
Looking back on my time in Australia, it's been a really beneficial trip for me, having given me some quality time to tweak a few things in my game, while simultaneously playing a good standard of cricket.
Twenty20 hasn't been my strongest format in the past, and I feel like I learned a lot about my T20 game in particular - especially in terms of dictating the pace of my innings and what my best scoring options are.
Putting skills under real match situation pressure is the hardest thing to replicate in the nets, so hopefully all the time I've spent in the middle this winter will put me in a good place come February and our tour to New Zealand. Playing a part in helping Tasmanian Roar to their highest ever finish was also a massive bonus.
Heather Knight's statistics for Tasmanian Roar

Innings

Runs

Highest score

Average

Strike rate

50s

WNCL

5

211

78

42.20

69.40

2

WT20

10

419

72*

59.85

112.33

5

WNCL: Women's National Cricket League; WT20: Women's Twenty20 Cup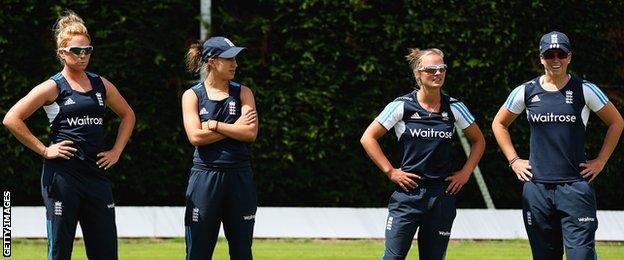 Straight back on the wagon
With us leaving for New Zealand at the end of January, it was straight back into training with the England girls at the National Cricket Performance Centre in Loughborough.
It was great to catch up with everyone and see how they've been getting on. It was also good to see that they hadn't lost their sense of humour either, suggesting I'd been somewhere other than Australia with my just "off-white" tan!
With a quick turnaround before the tour, it's been a busy few weeks for me catching up with family and friends. A few of us also had a sponsor's photo-shoot in the Long Room at Lord's. It was something slightly different to our average Monday, but it was great fun getting all glammed up by the army of hair and make-up stylists. In case you asked, Katherine Brunt was definitely the biggest diva on the day!
Here's the Lord's home dressing room as you've never seen it before…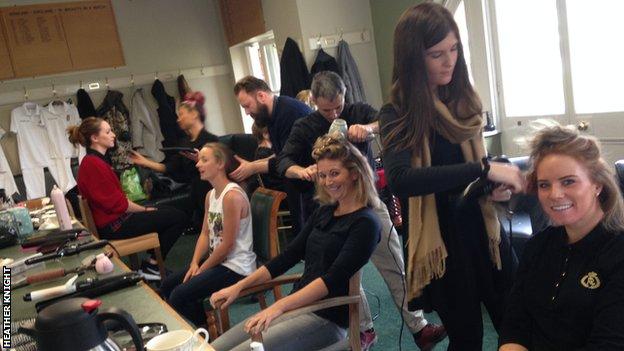 A day with the Royal Air Force
During our final pre-New Zealand tour training camp, we spent a day at RAF Cranwell in Lincolnshire.
Details about exactly what we would be doing were a little bit shady in the build-up. I'm ashamed to admit it but I locked my door before bed in fear of a 5am wake-up call and a military-style fitness session in the cold. Luckily I was being over cautious.
The day involved a number of team challenges including some of the RAF recruitment tests - most of which were nigh on impossible (not very fun if you hate losing!) but really tested our teamwork and leadership skills.
It was great to see everyone in a slightly different environment outside of cricket and to see some of the newer girls in the squad really step up and lead. We often talk of 11 leaders and one captain on the pitch, and this was really beneficial in highlighting that.
The day was finished off with a go in the flying simulator, which was surprisingly realistic… If you ever end up with me and Lydia Greenway in the pilots' seats, you're in big trouble!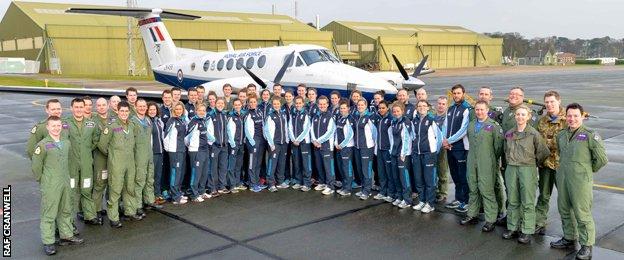 Off to New Zealand
It's great to have both Laura Marsh and Becky Grundy back amongst the touring party for New Zealand. They'll both strengthen our spin stocks and I'm sure Danielle Hazell, who cops a lot of stick about her Durham accent, will be happy to have Grundy, a Brummie, back in the team too!
It's the first time in a while the selectors have had a fully fit performance squad from which to choose - something the introduction of professional contracts has definitely helped with.
We'll probably go into the NZ tour as slight favourites considering our previous results against them, and because they haven't had the strongest 12 months as a team. They have, however, always been in and around the semi-finals and finals in ICC world events, and we'll definitely have to play really well to beat them away from home.
They also have some world-class players in Suzie Bates, Amy Satterthwaite and Sophie Devine to name a few, and mixed in with some fresh faces it's set to be an exciting tour.
England's itinerary in New Zealand

Date

Game

Venue

8 February

v Northern Districts

Mount Maunganui

11 February

1st ODI

Mount Maunganui

13 February

2nd ODI

Mount Maunganui

15 February

3rd ODI

Mount Maunganui

19 February

1st T20 international

Whangarei

20 February

2nd T20 international

Whangarei

24 February

3rd T20 international

Lincoln

26 February

4th ODI

Lincoln

28 February

5th ODI

Lincoln
The first three one-day internationals will count towards the ongoing ICC Women's Championship, which ultimately dictates qualification for the 2017 ICC Women's World Cup in England, so those three in particular are massive must-win matches for us.
The tour also runs alongside the men's ICC World Cup in Australia and New Zealand, so I think this will only add to the excitement and hopefully create a real buzz about the place.
Off the field, New Zealand is one of my favourite places to tour - it's a stunning country and the food and drink is up there with the best.
We left at the end of January, and with over five months since we last played an international we're all more than ready to get out there in an England shirt again. Bring on another 30-hour long-haul flight...