Cricket World Cup 2015: Ed Joyce still enjoying Ireland journey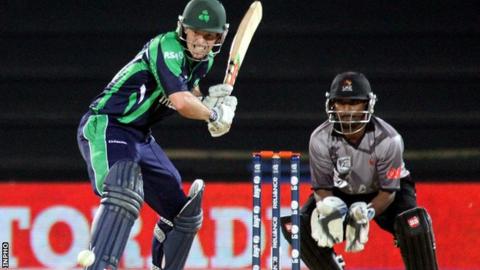 Ed Joyce smiles as he thinks back to all the twists and turns of his 17-year international cricket career as he approaches a third World Cup.
Granted, describing his opening seasons with Ireland as 'international' after his 1998 debut might be overstating it as Joyce and the band of amateurs were largely confined to opposition such as the Duke of Norfolk's XI.
"In those days, we played probably five or six games a year against that kind of opposition and it was all so amateur," recalls the 36-year-old, who was Sussex's leading run scorer in the 2014 county championship with 1,398 runs.
"Even then in 2005 when we qualified for the 2007 World Cup in the West Indies, you were getting 20 people at games."
But then came Ireland's shock victory over Pakistan in Jamaica in the 2007 tournament and Irish cricket became an overnight success story.
Dublin-born Joyce played at that World Cup in England colours after changing international allegiance in the hope of forging a Test career and found himself up against his former team-mates in Guyana.
His innings proved brief as he made only a single before having his stumps sent flying by Ireland seamer Boyd Rankin, who was later to make the switch to England colours.
England's struggles at that World Cup came a couple of months after a 5-0 walloping by Australia in the Ashes series, where Joyce did not play a Test.
While his 17-game England stint did include a one-day century against Australia in Sydney, the Test career he craved did not materialise and, by the time the 2011 World Cup came around, Joyce was back in Ireland colours.
That tournament in India and Bangladesh gave Joyce probably his "favourite cricketing memory" as Kevin O'Brien's fastest century in World Cup history ensured an astonishing comeback win over England.
"I played particularly poorly myself that day and when I and Gary Wilson got out we were something like 120-5 with 20 overs left, chasing around 330," adds Joyce.
"Kevin just went completely bananas, although even up to the point where he got his hundred, I still thought it was going to go wrong for us.
| Date | Opponent | Venue |
| --- | --- | --- |
| Monday, 16 February | West Indies | Nelson (NZ) |
| Wednesday, 25 February | United Arab Emirates | Brisbane (Aus) |
| Tuesday, 3 March | South Africa | Canberra (Aus) |
| Saturday, 7 March | Zimbabwe | Hobart (Aus) |
| Tuesday, 10 March | India | Hamilton (NZ) |
| Sunday, 15 March | Pakistan | Adelaide (Aus) |
"But John Mooney and Trent Johnston and Alex Cusack got us over the line and it's an amazing memory.
"You could have equated it to being 4-0 down in the football match and coming back to win it, and it was particularly sweet given that it was against England."
Fast-forward four years and Ireland are readying themselves for another World Cup, which will begin against West Indies in the New Zealand city of Nelson on 16 February.
Phil Simmons's Ireland side will go into the tournament with the tantalising prospect of Test cricket now dangling in front of them following the International Cricket Council's decision to set up a new play-off system.
This will see the winners of the 2017 ICC Intercontinental Cup - featuring the top non-Test sides - playing four five-day matches against the lowest-ranked Test team in 2018 with the victors earning or retaining Test status.
Ireland have won four of the last five Intercontinental Cup tournaments.
"There is the pathway to Test cricket now for us in three or four years and while it is a very difficult pathway, it is there for us now," says Joyce.
"But the situation at the moment is that we don't get a huge amount of opportunities to play games against the top teams, so our only real stages are the 50-over World Cup and the World Twenty20.
"This World Cup will be huge for us. We're very aware that we have to perform in these big tournaments to keep the game on an upward curve in Ireland in the way that it has been for the last few years."
After playing matches in Australia, New Zealand and Dubai over the autumn and winter, Joyce says the squad's build-up for the tournament has improved significantly from four years ago.
"We're usually behind with the preparation but we can't make that excuse this time," he says. "This is the best prepared team we've ever had going to a World Cup."
As regards Ireland's prospects, Joyce believes the opening game against West Indies will prove pivotal.
The West Indies have been mired in controversy in recent months following the pay dispute which led to the abandonment of last October's tour of India.
"We're optimistic about our chances but the most important thing is that we start the tournament well.
"We've got a West Indies team who are in a bit of turmoil and, while they still have fantastic players, if we win that game, we can go anywhere in the tournament."