Peter Willey & George Sharp: Umpires fight ECB over age ruling
Last updated on .From the section Cricket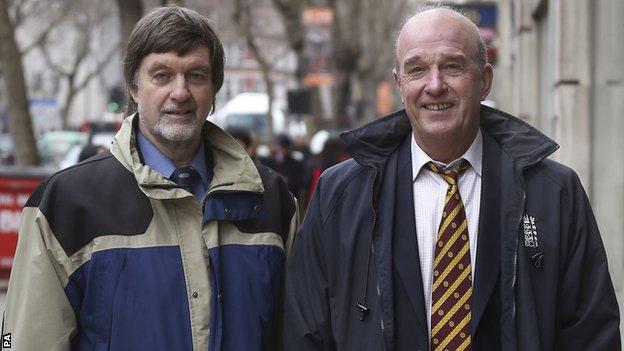 A former England batsman says being 65 years old is not a just reason to drop him from the England & Wales Cricket Board (ECB) first-class umpire list.
Peter Willey and George Sharp, 64, are claiming unfair dismissal after they were forced to retire.
The pair, who have 45 years of elite umpiring experience between them, say the ECB broke age discrimination laws.
"When you walk on to the field as a 25-year-old or a 65-year-old you can make a mistake," Willey said.
Willey, a former chairman of umpires who officiated in 25 Test matches during a playing and umpiring career that spanned 49 years, said his own professional pride would have told him when he could no longer perform his duties.
"I don't want to carry on and leave the game with people thinking I wasn't a very good umpire," he told the Central London Employment Tribunal hearing on Wednesday.
"When I finished my [playing] career at Leicestershire after 25 years I was asked to take the money and leave the club. For the last year and a half, I was not a very good cricketer and I don't want that to happen as an umpire."
United Kingdom law on age discrimination
A change in UK law in 2011 stipulated the abolition of a default retirement age. Since October 1, 2011, employers can no longer compulsorily retire employees or refuse to recruit prospective employees merely because they are over the age of 65.
Sharp, who will be 65 by the time the season starts, told the tribunal that the ECB should make the decision on ability rather than age.
"At the moment, my standards have not dropped, and at the end of the 2015 season I would know if my standards had dropped and I would go back to the board and discuss it," he said.
"If they said, 'George, your standards have dropped, you have got to go', I would say, 'thank you very much'."
The ECB's umpires manager Chris Kelly told the tribunal on Tuesday that the board was justified in ending the pair's careers at the age of 65, citing the "physical and mental pressures" associated with the £51,270-a-year job.
"At that age it's not easy to stand for long games. A lot of older umpires have told me they feel the days are getting longer," he said.