Michael Clarke unsure over Australia World Cup injury return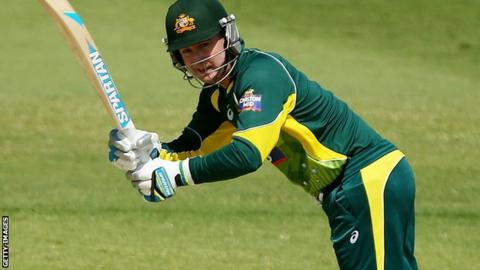 Michael Clarke is unable to say if he will be passed fit for Australia's opening World Cup match against England on Saturday 14 February.
The Australia captain is recovering from a hamstring tear, sustained in a Test match against India in December.
"I think you should ask that question to the medical staff," he said. "I will 100% be dictated by what they believe."
Clarke, 33, has been given a fitness deadline of Australia's second match against Bangladesh on 21 February.
He revealed he "pulled up well" during a match for a Cricket Australia XI against Bangladesh in Brisbane on Thursday.
Clarke scored 34, bowled a few overs of his left-arm spin and took a sharp slip catch in the field.
He had previously played as a batsman-only for Sydney grade side Western Suburbs on Saturday.
"I've been following their [the medical staff's] guidelines since day one," he said.
"I'm extremely grateful and thankful that I sit in this position now because of their advice and guidance.
"The gap between me playing for the Cricket Australia XI and me walking out and playing a one-day international - there's still a gap there.
"But I'll close that gap with the work I do off the field and then once I set foot on the ground, I don't hold anything back."