Saaed Ajmal & Sohag Gazi bowling actions cleared by ICC
Last updated on .From the section Cricket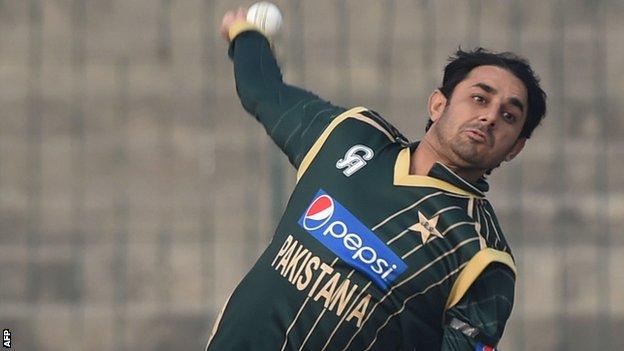 Pakistan spinner Saeed Ajmal has been cleared to resume his international career after his bowling action was deemed to be legal.
The 37-year-old, who has taken 178 Test and 183 one-day international wickets, was suspended by the International Cricket Council (ICC) last September.
In December he ruled himself out of the World Cup but has now undergone remedial work and passed ICC retests.
Bangladesh spinner Sohag Gazi has also been cleared to play again.
Saeed Ajmal's success for county and country
Ajmal played in nine of Worcestershire's 16 Championship games in 2014, but did enough to bowl them to promotion, taking 63 wickets at 16.48.
He has taken 178 wickets in 35 Tests at 28.10 in only five-and-a-half years since making his debut for Pakistan at the age of 31 in July 2009.
Having been reported for a suspect action by the umpires during the first Test with Sri Lanka in August 2014, Ajmal was banned by the ICC.
He has since worked with ex-Pakistan Test player Saqlain Mushtaq, undergoing tests at Loughborough and Edgbaston prior to Christmas.
Worcestershire have also been monitoring the situation, as they are keen to sign him for a third time next summer, following the part he played at New Road in bowling them to promotion in 2014.
Off-spinners under ICC scrutiny

Marlon Samuels
West Indies
Reported in November 2013; cleared in December 2013 (but banned from bowling quicker deliveries)

Shane Shillingford

West Indies

Reported in November 2013; suspended in December 2013; cleared to return in March 2014 (but banned from bowling doosra)

Sachithra Senanayake
Sri Lanka
Reported in June 2014; suspended in July; cleared to return in December

Kane Williamson

New Zealand

Reported in June 2014; suspended in July; cleared to return in December

Saeed Ajmal
Pakistan
Reported in August 2014; suspended in September; cleared to return in February

Prosper Utseya

Zimbabwe

Reported in August 2014; suspended in October; cleared to bowl seam in December (but banned from bowling off-spin)

Sohag Gazi
Bangladesh
Reported in August 2014; suspended in October; cleared to return in February

Malcolm Waller

Zimbabwe

Reported in November 2014; suspended in December

Mohammad Hafeez
Pakistan
Reported in November 2014; suspended in December