Eoin Morgan: England skipper labels bat controversy 'ridiculous'
Last updated on .From the section Cricket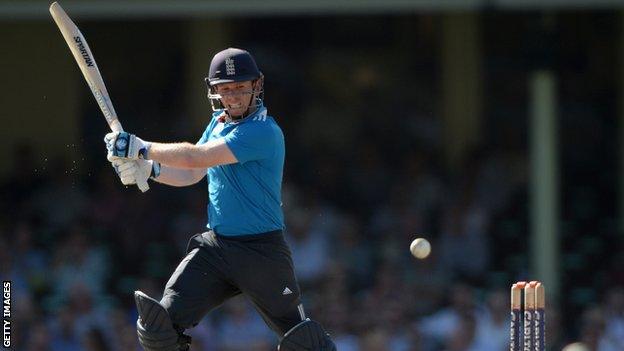 England captain Eoin Morgan has dismissed claims that modern bats are too big and favour batsmen.
His comments came after South Africa's AB de Villiers hit the fastest one-day century from 31 balls last month.
"The bat-size debate is ridiculous," said Morgan, 28, who believes rule changes in ODIs have boosted scoring.
"I haven't come across a bat yet where I've said 'this is ridiculous, this should be outlawed'.
"The fact that you can concentrate on the bat size when the rule change has been made so that you bowl with two new balls... The ball is never any older than 25 overs and you have an extra man in the circle."
One-day record breakers
South Africa's AB de Villiers hit a century off 31 balls to record the fastest ever one-day international ton on 18 January 2015 against the West Indies.
India's Rohit Sharma become the first man to
hit 250 in a ODI
with his 264 against Sri Lanka in November 2014.
Richardson said modern bats had "shifted the balance in favour of batsmen" as more poor shots or mis-hits shots were going for six.
The length and width of bats is regulated but there are no rules concerning depth.
At a meeting of the MCC's World Cricket Committee last July it was decided not to change the rules regarding bat sizes.
The MCC says it will be monitoring the performance of bats during the upcoming World Cup, where boundary ropes are to be pulled as far back as 90 yards.