Ireland's Ed Joyce attacks ICC over cut in World Cup teams
Last updated on .From the section Cricket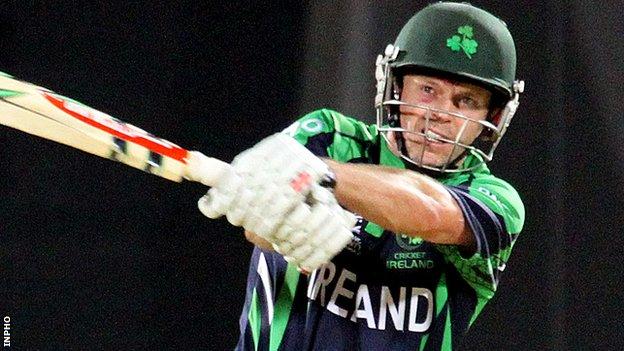 Ireland batsman Ed Joyce has launched a strongly-worded attack on the ICC for reducing the number of teams allowed to play at future World Cups.
Fourteen teams will be competing in this year's World Cup but that is to be cut to 10 when the competition is staged in England in 2019.
Ireland begin the 2015 Cup against the West Indies on 16 February with Joyce warning it could be their last.
"We are very disappointed that it is [to be] a 10-team World Cup," he said.
"We seem to be the only sport that has a World Cup that is contracting rather than expanding."
The 10 teams for the 2019 competition will be made up of the top eight in the ICC rankings plus two teams from qualifying event to be held in Bangladesh in 2018.
Ireland's 2015 World Cup fixtures

Date

Opponent

Venue

Monday, 16 February

West Indies

Nelson (NZ)

Wednesday, 25 February

United Arab Emirates

Brisbane (Aus)

Tuesday, 3 March

South Africa

Canberra (Aus)

Saturday, 7 March

Zimbabwe

Hobart (Aus)

Tuesday, 10 March

India

Hamilton (NZ)

Sunday, 15 March

Pakistan

Adelaide (Aus)
Joyce commented: "I hate to say it, but this could be our last World Cup because it is going to be very difficult to get into that top eight and, with the qualifying tournament in Bangladesh, they are going to have a home advantage.
"I wholeheartedly disagree with the reasons for that. I do not think it is the way a sport should be run, especially one that speaks about expanding and trying to get bigger.
"Opportunities are obviously dwindling for sides outside the elite and that's obviously not ideal for trying to grab the game at home. There is an appetite, but we need an opportunity."
The 2015 World Cup, being staged in Australia and New Zealand, starts on Saturday.