Cricket World Cup 2015: Jos Buttler eyes bigger England role
Last updated on .From the section Cricket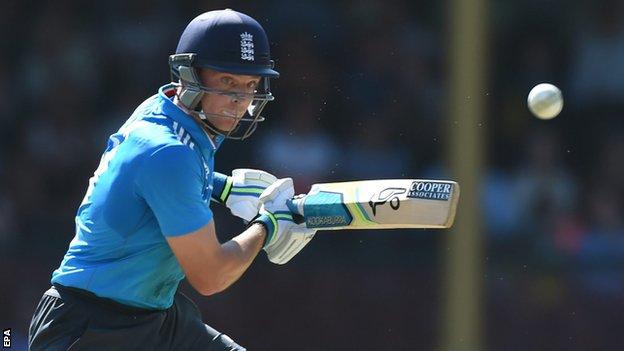 England wicketkeeper-batsman Jos Buttler says he is happy to fill the role of "finisher" in the World Cup, but wants to bat higher up the order.
He has made one ODI century and six fifties in ODIs.
"I'm ambitious to score bigger scores and I don't want to be pigeon-holed as someone who can only finish an innings," said Buttler.
"The back end of an innings is where I've had a lot of success, trying to close out innings with 10 to 15 overs to go. That is a good place for me to bat."
Buttler has batted at number six or seven in all but three of his 42 ODI innings.
His only century, made off 61 balls against Sri Lanka at Lord's in 2014, is the fastest by an England player.
"I want to be someone who can bat for 35 to 40 overs and get big hundreds," he said.
"That's my ambition and if I get a chance to do that at any point then it is down to me to try and take those opportunities."
Lancashire's Buttler also wants to lose his "potential" tag at the World Cup, which will be held in Australia and New Zealand.
"I don't want to be someone who is talked about who could be a good player for England," he said.