Cricket World Cup 2015: ICC 'crack down' on players' behaviour
Last updated on .From the section Cricket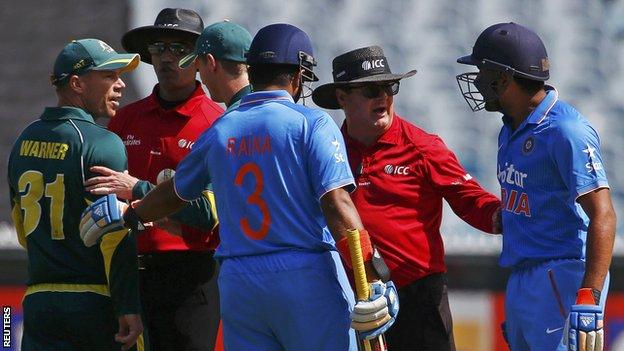 2015 World Cup
Dates:
13 February - 29 March
Hosts:
Australia and New Zealand
BBC coverage:
Live radio and text commentary on every match on BBCRadio 5 live or sports extra, plus desktop, tablets, mobiles and app
Full fixtures and group information here
Excessive sledging at the World Cup will see players fined or banned as part of an International Cricket Council "crackdown" on poor behaviour.
The tournament, in Australia and New Zealand, begins on Friday and ICC chief David Richardson said: "The penalties will be a bit more serious than before.
"For a first offence, you'll likely end up with a fine which no player likes, handing back most of his match fee.
"But a repeat offence will be punished with a suspension."
Richardson said that the ICC, cricket's world governing body, had already been acting to combat players' behaviour well before its showpiece tournament and that those "already with offences behind their name" will face suspensions for further indiscretions.
"It started a few months back. The behaviour in some matches by some players was deemed to be unacceptable and not a good example to young fans watching the game," he explained.
"I think there's been something like 12-13 code of conduct charges laid in the last few months in bilateral series. So, the crackdown had already started."
There were a number of flashpoints in Australia's recent home series against India, with Aussie opener David Warner fined on one occasion after an angry confrontation with Rohit Sharma in which he told the Indian batsman to "speak English".
Richardson, who kept wicket for South Africa at the 1992 World Cup, insisted that "the umpires intend to remain firm" in attempting to curb bad behaviour on the field.
Match referees will still have the power to review incidents after the game, but the ICC does not intend to pursue the suggestion that bringing in red and yellow cards might improve matters.
"That idea has been debated at a number of previous cricket committee meetings that I've attended and probably will be debated again," added Richardson.
"We don't necessarily want to follow the way that football goes. A lot of these decisions are taken after a measured response by match officials reviewing footage of the match afterwards.
"That obviously cannot happen when you are brandishing a red or a yellow card on the spur of the moment."