Cricket World Cup 2015: England will make us sweat amid the drama

By Jonathan Agnew
BBC cricket correspondent
Last updated on .From the section Cricket
ICC Cricket World Cup
Today:
Sri Lanka v New Zealand at 22:00 GMT and England v Australia at 03:30 tomorrow
BBC coverage:
Live Test Match Special radio and text commentary on every match on BBC Radio 5 live sports extra & BBC Sport website, plus desktop, tablets, mobiles and app.
You can bet your life that England will have us sweating as they seek to qualify for a place in the World Cup quarter-finals.
For some reason, they never make it easy for themselves. And when - if - they get to the knockout stages, that is when it usually goes completely wrong. They haven't won a World Cup knockout match since the tournament was last held here in Australia in 1992.
It would be nice if they could breeze into the last eight. Even if they lose against the three other big teams in Group A - Australia, New Zealand and Sri Lanka - they would still only have to beat Bangladesh, Scotland and Afghanistan to progress.
But we mustn't forget 2011, when they were beaten by Ireland and Bangladesh, not to mention the two World T20 loses to the Netherlands.
England squad for the World Cup
Moeen Ali, James Anderson, Gary Ballance, Ian Bell, Ravi Bopara, Stuart Broad, Jos Buttler (wk), Steven Finn, Alex Hales, Chris Jordan, Eoin Morgan (capt), Joe Root, James Taylor, James Tredwell, Chris Woakes.
See the full squad lists here
At the moment, it feels like England are struggling for consistency. One good performance is rarely followed by another. They have to start stringing results together.
They begin with two very tough matches - against Australia on Saturday, then New Zealand next Friday - but if they can win just one of those, the momentum that is so badly needed in a tournament may just be with them.
Lose both, though, and the downward spiral can be just as steep and harder to get out of.
Morgan's mission
It seems as if we have been talking about the form of one England captain or another forever.
Eoin Morgan was not in the best touch when he replaced Alastair Cook as captain and, bar a century against Australia in the tri-series, has done little to reverse that.
With nine scores under 20 in his last 11 innings, he needs runs, but he is a class player.
The more I think about Morgan, the more I believe that he could have a good tournament.
Soon after taking the captaincy, he was thrown two curveballs.
First, Kevin Pietersen claimed Morgan wanted him in the team. Then there was that bizarre blackmail story in which Morgan was the victim of a failed blackmail attempt against him.
He dealt with both issues very well and cut an impressive figure in his media conference on Thursday.
Clearly, that doesn't mean he will now go on to make a score, but, if he does find his touch, we all know he can be massively destructive.
Ravi's role
At least Morgan doesn't have too many decisions to make about the make-up of his team. England have picked the same 11 players for their last four one-day internationals.
Nevertheless, there seems to be some speculation about Ravi Bopara's place.
With England likely to employ four front-line seamers and the spin of Moeen Ali, Bopara's medium pace provides some relief if one of the bowlers proves costly.
However, Bopara is vulnerable if he does not score runs. I would like to see Gary Ballance given an opportunity at some stage. But that will hinge on England believing they can get 10 overs from Moeen and Joe Root.
Naturally, there has been a lot of talk about the omission of Ben Stokes, who subsequently scored a brilliant hundred for the Lions.
Stokes had his chances and simply didn't take them. Still, it would have been a tough decision to leave him out because he is a very good cricketer.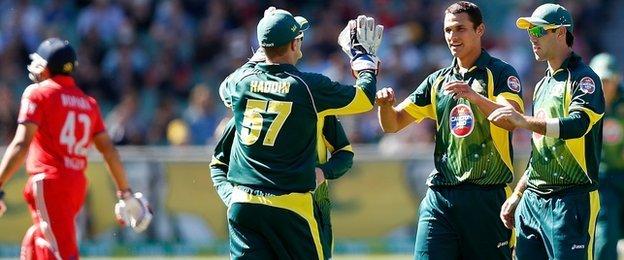 The Aussies
England's first assignment is the toughest of the lot - a meeting with Australia in front of 90,000 on Valentine's Day at the bear pit that is the Melbourne Cricket Ground.
I played in the very first day-night ODI in Melbourne in 1985 and can tell you it was a hostile, ugly environment.
Still, if England can get to grips with that, silence the crowd and pull off a shock, what a stunning start to the tournament that would be.
Australia are a very good side - and they know it. They will be confident that they will can beat anyone and win this tournament. They are the favourites and rightly so.
They have depth and quality in all the areas you need in ODI cricket. They have powerful openers, good middle-order players, strike bowlers and death bowlers. Questions might be asked of spinner Xavier Doherty, but the likelihood is they will leave him out and go with four frontline pacers.
We know skipper Michael Clarke will miss the game against England, but a bigger loss might be James Faulkner. He is a fine death bowler and finisher with the bat. They will want him fit and available later in the tournament.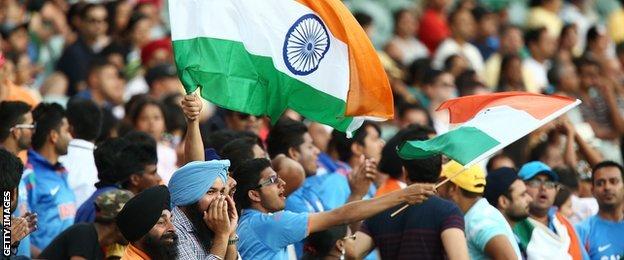 India
The defending champions boast some fantastic one-day cricketers, like Rohit Sharma, whose 264 against Sri Lanka last November is the highest ever individual score in ODI cricket, and Virat Kohli, possibly the finest second-innings match-winner.
But they just don't play well in Australia. They have been here for a long time, since November, and won only once, a warm-up match against Afghanistan.
They will be pleased not to have been drawn in Australia's group and should not be written off just yet.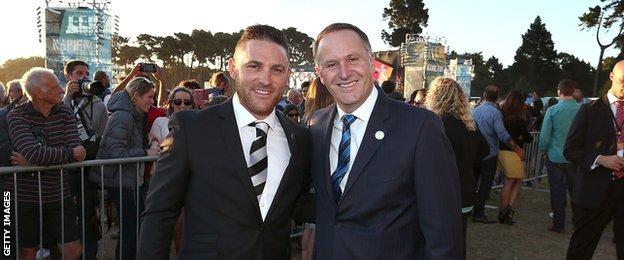 My other picks
I rate New Zealand highly, not least because they have a formidable home record and play all their matches, bar the final, in their own country.
It is their bowling that is so impressive. They know how to defend totals and have conceded just 300 at home only twice in four years. Since January 2014, they have only twice failed to defend a target.
If we rate Australia as favourites, then you suspect that South Africa are the team most likely to meet them in the final. But they have to rid themselves of the 'chokers' tag.
When you look at the likes of AB de Villiers, Hashim Amla, Dale Steyn and Morne Morkel playing on pitches that should suit them, there is no reason why they can't win it. They just have to avoid beating themselves first.
Where will it be won and lost
You sense this will be a batsman's tournament, for a number of reasons.
Firstly, the conditions, especially in Australia, do not tend to deteriorate. Secondly, this is the first World Cup to be played that allows only four fielders outside the 30-yard circle. It is a bowler's nightmare.
There is one other reason, too. The International Cricket Council has clamped down on spin bowlers with suspect actions.
Three of the world's top 10 ODI bowlers were 'mystery spinners' who were subsequently banned for having suspect actions - Saeed Ajmal, Sunil Narine and Mohammad Hafeez.
Ajmal has since been cleared and could still be called up by Pakistan, but the absence of great spinners makes one-day cricket even more of a batsman's game.
One-line verdict
Group A
Australia - Would be favourites to win anywhere in the world, but look formidable at home.
England - Will keep us on the edge of our seats and, realistically, a semi-final would be a good result.
New Zealand - Very strong at home and, along with Australia, they are the form team.
Sri Lanka - Never underestimated, with vast experience in all departments.
Bangladesh - They will beat somebody.
Scotland - Will benefit from the input of Paul Collingwood.
Afghanistan - Excitable and great to watch.
Group B
India - The defending champions, with great talent, but they just don't play well in this part of the world.
West Indies - Utterly unpredictable and could still surprise us.
Pakistan - Won here last time it was held in 1992, but would be surprised if they can do it again.
South Africa - Got to lose the choking tag in order to go as far they should.
Zimbabwe - I'll be interested to watch them against Ireland.
Ireland - I'll be interested to watch them against Zimbabwe - there's the subplot of Test status being up for grabs.
UAE - The biggest of the tournament's outsiders.
Jonathan Agnew was talking to BBC Sport's Stephan Shemilt