Cricket World Cup 2015: 'Beating West Indies just the start'
By Gary Wilson
Ireland wicketkeeper
Last updated on .From the section Cricket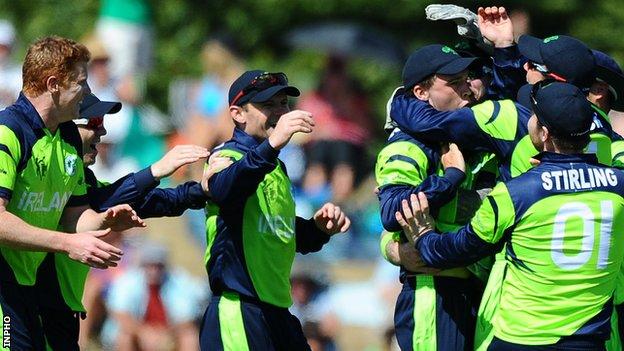 I grew up watching the Irish rugby team belting out the anthem Ireland's Call at Lansdowne Road.
I thought how I would love to do that one day. The first chance I got was when playing for the Irish cricket team but it was a low-key thing.
We have sung it dozens of times since, equally as low key but Monday was different.
When we ran down the steps at the Saxton Oval, ahead of our opening World Cup game against West Indies in New Zealand, we saw former Ireland international Paul Mooney at the bottom.
Paul, the brother of my team-mate John Mooney, was dressed head to toe in his old Ireland kit and high fived every single one of us. You could see how much this meant to him and immediately I had a lump in the throat.
For the singing of the anthems, we stood, (literally) shoulder to shoulder facing our fans and belted out, and I mean belted, Ireland's Call.
Four or five of us commented after the game on what a good a feeling it was. At the time I was a bit embarrassed that I had to wipe away a little tear, but it was a great moment.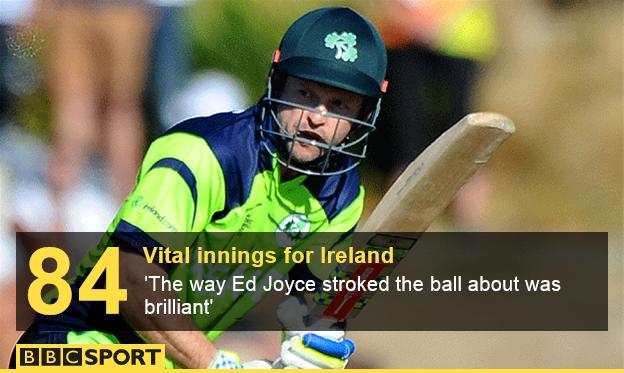 It was a great win over the West Indies, there's no doubt about that, but the most significant thing for me is how we celebrated.
We were delighted and had a few beers afterwards - but we are well aware that this is the start of the tournament.
It was a different feeling to when we beat England in the 2011 World Cup.
This time we basically outplayed a top-eight country for 90% of an ODI in a World Cup and ended up beating them with relative ease.
Right from the start of each innings we set the tone. The way Paul Stirling and Niall O'Brien played was outstanding but the real match winner for me was Ed Joyce.
He just brings a real calmness to our batting and the way he stroked the ball around in the middle was brilliant.
A word too for our off-spinner Andy McBrine - 10 overs for 26 in his first World Cup game was a serious effort.
What I like so much about Andy is that, even though he is playing in his first World Cup, you would think he was just down at Donemana on a Saturday afternoon. He takes everything in his stride.
We need to make sure we now carry this on and go as far as we possibly can in the competition.
Ed Joyce made a comment that this could feasibly be our last World Cup.
The 2019 tournament will be a 10-team competition and, the way things are set up, Ed is correct. This could be our last World Cup and in my opinion it's totally wrong.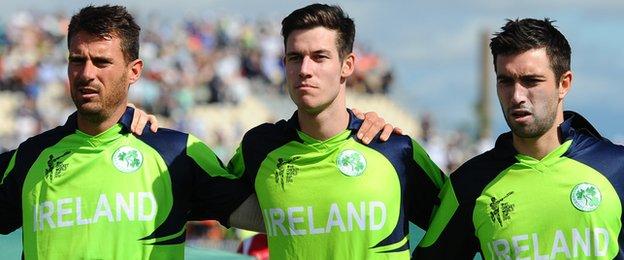 Ten teams? That's not a World Cup, it's basically just a cup. That is the message that needs to be delivered on the behalf of teams who are outside the supposed top eight.
I'd be saying this win, lose or draw against the West Indies and whether we win our next five games or get pumped in all of them, that message will stay the same.
We totally back ourselves to be one of the 10 teams if the ICC do not change the format but that is not the point.
We are on our way to Brisbane now, where we will have two days off, away from cricket completely and I think it is needed.
We built up to this first game so much and the nine-day break we have before our next game will give us the chance to regroup, prepare properly and deliver another performance against the United Arab Emirates at the Gabba.
The game against the UAE now becomes as big as the first one, an absolute must-win match. We have got a great record against them so we will be entering the game full of confidence.
Ireland's remaining Pool B fixtures

Date

Opponent

Venue

Wednesday, 25 February

United Arab Emirates

Brisbane (Aus)

Tuesday, 3 March

South Africa

Canberra (Aus)

Saturday, 7 March

Zimbabwe

Hobart (Aus)

Tuesday, 10 March

India

Hamilton (NZ)

Sunday, 15 March

Pakistan

Adelaide (Aus)