World Cup 2015: England's Eoin Morgan asks senior players to lead
Last updated on .From the section Cricket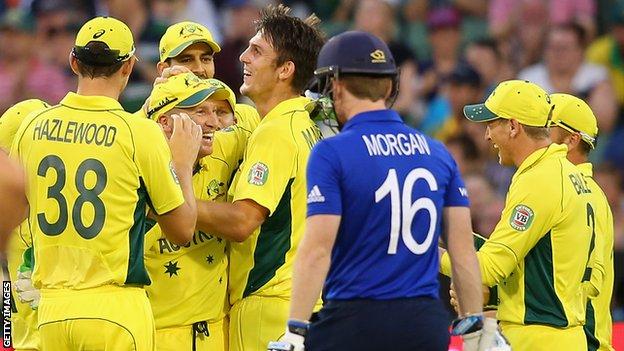 Eoin Morgan has called on England's senior players to take the lead after his team's hammering by Australia in their opening match at the World Cup.
The England captain made his third duck in four innings in a 111-run defeat at a packed Melbourne Cricket Ground.
"They outplayed us in every department," said Morgan, whose team face co-hosts New Zealand on Friday.
"Certainly first point of call is to turn to senior players and ask them to lead from the front."
England must finish in the top four of their seven-team pool to reach the quarter-finals.
"This result doesn't make or break our tour," added Morgan. "Our aim is to first reach the quarter-finals but our first two games are the toughest."
Australia racked up 342-9 - with Aaron Finch making 135 - before bowling out England for 231 in 41.5 overs to inflict their second biggest World Cup loss in terms of runs.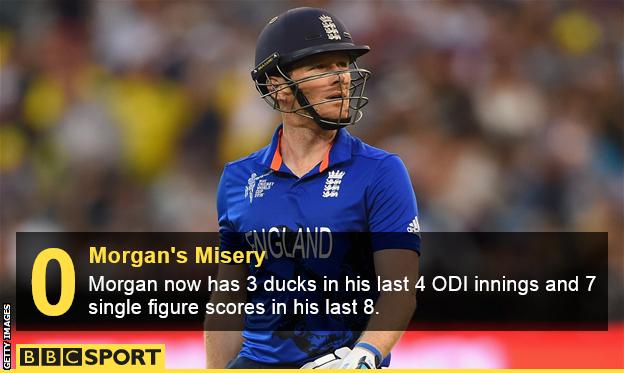 England's bowling in the closing stages was once again found wanting as the final 10 overs yielded 105 runs, including 76 off the last six.
Morgan accepted his bowlers had struggled, but defended their strategies.
"I thought our plans were reasonably good but the execution was poor," he said.
"There are three or four plans at the death. Each batsman varies. It's not easy, the main objective is to restrict scoring and take wickets - taking wickets is the ultimate because that checks the scoring."
Morgan remained defiant over his own form, despite scoring only two runs in his last five innings.
"If I was nicking off every ball that I'd got I'd be worried, but I'm not. I'm getting out in different ways," he said.
"Moving forward I'll be trying to spend as much time in the middle as possible."
Former Australia captain Allan Border
"What a way for Australia to start, they have battered England. It was anti-climatic and confusing at the end but it was emphatic from Australia. They got a reasonable start, wobbled a bit but one of their top three got a big score and the momentum swung."
Former England batsman Geoffrey Boycott criticised the England selectors for tinkering with the team for their World cup opener.
He said on Test Match Special: "England have been preparing for the World Cup for the last few months and then they switch things around in the first World Cup game.
"Gary Ballance came in, Ravi Bopara went out, James Taylor went from three to six and Stuart Broad took the new ball over Chris Woakes.
"They wait for the biggest match they've had to make these changes. Surely they had plans in place before today."
Australia captain George Bailey said England played into the home side's strengths by putting them in to bat.
"We were very happy to bat first," said Bailey. "There was a lot of anticipation, a big build-up, but we felt like we have a strong batting line-up and it was nice to get out there and use that track first.
"Aaron Finch rose to the occasion. That's what we're after from our top order. We want great innings and to turn them into match-winning knocks and that's definitely what we got."