Cricket World Cup 2015: India have set benchmark - MS Dhoni
Last updated on .From the section Cricket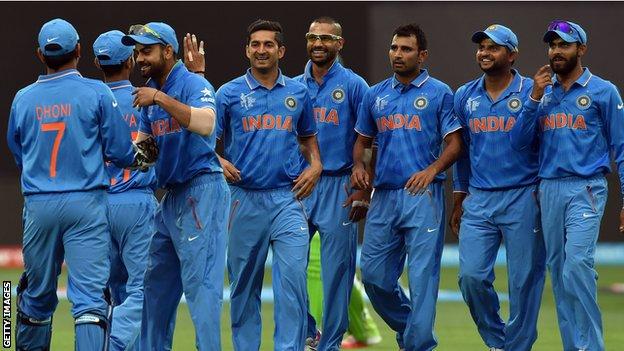 India captain MS Dhoni said his team have set a standard they will need to maintain if they are to successfully defend their World Cup title.
"This game was fantastic for us," said Dhoni, 33. "It should be a benchmark.
"In the coming games we will be playing more tough sides and hopefully we can replicate this performance."
India lost all three of their completed matches in the recent tri-series against Australia and England, which followed a 2-0 Test series defeat by the Aussies.
Former Australia coach Tim Nielsen
"India won in a manner which shows they were well prepared for this game. They got their head around which was the right line-up to field on this pitch at Adelaide. The two spinners did an excellent job and the wickets were shared between the group."
But they dominated from the start against Pakistan, with Virat Kohli scoring 107 in their total of 300-7.
Pakistan kept in touch during the early stages of their run chase, but lost 5-52 in the middle overs and were eventually bowled out for 224.
Dhoni said India had been reinvigorated by taking a 10-day break after the tri-series.
"The break that we had helped us a lot," said Dhoni. "Everyone went off to do their own thing and then we came back.
"You divide the tour in two - first the Tests and the tri-series, then the World Cup and use that as a fresh start. We did that well. Though the results were not in our favour, morale was good.
"It is the job of a leader to keep morale high. If you have a genuine smile on your face and turn up every day trying to improve, the results will follow."
Pakistan captain Misbah-ul-Haq said his team would try to put the defeat by India behind them, but suggested changes may be required if they are to reach the quarter-finals.
"We are not getting the balance right," he said. "We need a fifth bowler. Sometimes you have to sacrifice an extra batsman.
"We have to concentrate on the games that are coming up. If you dwell on the game that has just happened, it's really difficult."