Cricket World Cup 2015: Ireland's Porterfield wants more big games
Last updated on .From the section Cricket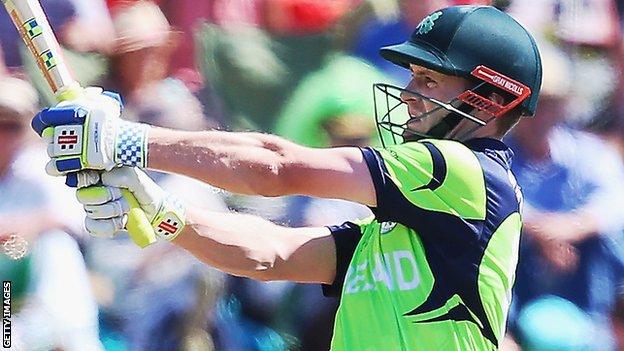 Ireland captain William Porterfield says his side's four-wicket win over West Indies shows what they can do against top-class opposition.
"It would be nice to have more fixtures like this outside of the four-year World Cup cycle," said Porterfield.
"We'll grasp any opportunity to play a top eight nation with both hands."
The opening batsman added that he disliked his side being termed as "an Associate nation or minnows".
"Cricket seems to be the only sport in which labels like 'Associate' are used, rather than just having a straightforward ranking system. It's frustrating but it is what it is.
"We've played nine one-day internationals against the top eight teams in the last four years so we've had very little practice against opposition of that quality in the run-up to the World Cup.
"It's fantastic for the lads to win against a team like West Indies and it's right up there with our best achievements in the 50-over one-day game."
The second of Ireland's six group matches is against the United Arab Emirates in Brisbane on Wednesday, 25 February and their skipper is warning against any complacency.
Three wins from their six fixtures should be enough to secure a place in the quarter-finals for Phil Simmons's side.
"This was a comprehensive win but it doesn't mean anything if we don't front up in every game - it's the UAE next for us and we'll have to give that one everything," he added.