Cricket World Cup 2015: Scots team must keep fighting - Salmond
By Kenny Crawford
BBC Sport Scotland
Last updated on .From the section Cricket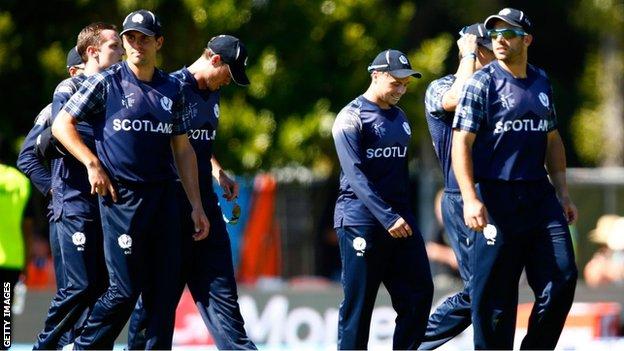 Former Scotland captain George Salmond has urged the national side to "keep believing" in their potential to shine at the 2015 Cricket World Cup.
Despite Matt Machan and Richie Berrington's half-centuries, the in their opening Pool A match.
"You've seen from a couple of the guys what's possible," said Salmond.
"You've also seen them take seven wickets against a top team. They should keep fighting and you just never know."
Scotland were all out for 142 after 36.2 overs, a total that many feared would not be reached when they were reduced to 12-4 in the fifth over, with Calum MacLeod, Hamish Gardiner and captain Preston Mommsen all walking early on without registering a run.
A partnership between Machan (56) and Berrington (50) steadied the ship.

"The Kiwi bowlers bowled extremely well in conditions that suited them," Salmond told BBC Radio Scotland.
"But it was really quite inspiring how Machan and Berrington recovered. It was fantastic, real strength of character.
"Twelve for 4 and three first ball ducks can happen against these top-class sides, but for the guys to get the heads down and to pull Scotland back into the game was extremely encouraging.
"Probably more disappointing for Grant Bradburn and his team was that the last six wickets fell for 33 runs."
Salmond, who captained Scotland 104 times and played at the 1999 World Cup, thinks the national side will be glad that the tournament is finally under way for them following a lengthy build-up.
Next in their path is a match with England in Christchurch on Sunday at 22:00 GMT, a contest in which he feels the Scots could get points on the board.
"There's always a chance," said Salmond, who is now a Scottish Professional Football League referee.
"England are under immense pressure and could be under more pressure if they lose on Friday night to New Zealand.
"They don't have a settled team, they've replaced their captain in the last few months and the Scotland guys did very well against England in May up in Aberdeen.
"I'm quite sure they'll be champing at the bit ready to get out there.
"Let's not forget, the England team are good and have a lot of good players, but they don't seem to have gelled as a unit quite as much as the Scotland team have over the past couple of years."