Cricket World Cup 2015: Irish ready to face West Indies
Last updated on .From the section Cricket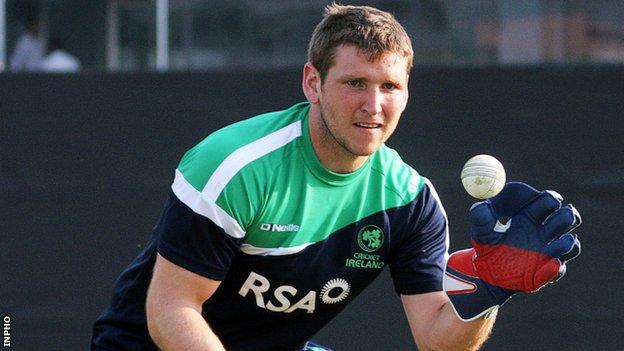 I write this sitting on the Ireland team's New Zealand Airways plane bound for Auckland, 13 hours ahead of the United Kingdom.
It is Friday lunchtime and most of today will be spent travelling. We left our Sydney hotel at 7.00 this morning and, after a quick connection in Auckland, we arrive in Nelson at around 5.00 this evening.
It was great to get our first win of the tour chalked up in Blacktown on Thursday against a Bangaldesh team that is fairy experienced with some real quality.
Over the years, especially in World Cup warm-up matches, we have had a pretty decent record against them so it was pleasing to continue that.
Andrew Balbernie has been our best player this winter and he continued his good form with a match-winning 63 not out.
The most pleasing thing about the game however was bowling them out for 189.
There has been some questions raised in parts of the media about our inexperience with the ball after losing Tim Murtagh through injury, so it was great to see the lads run through a team with some impressive players.
Losing to Scotland the way we did hurt us. Warm-up or not, any time an Irish team loses to our Celtic neighbours is a disappointment - let alone losing by that margin.
Credit to Scotland, they have come a long way in the last two years or so and I think they may surprise a few teams in this World Cup.
In the changing room afterwards, we got a bit of a rocket from coach Phil Simmons and deservedly so.
Ireland's remaining Pool B fixtures

Date

Opponent

Venue

Monday, 16 February

West Indies

Nelson (NZ)

Wednesday, 25 February

United Arab Emirates

Brisbane (Aus)

Tuesday, 3 March

South Africa

Canberra (Aus)

Saturday, 7 March

Zimbabwe

Hobart (Aus)

Tuesday, 10 March

India

Hamilton (NZ)

Sunday, 15 March

Pakistan

Adelaide (Aus)
We obviously didn't mean to play badly, we weren't complacent. We just didn't execute our skills in any of the three facets that day.
Ed Joyce then stood up and made a really good point. "This game only matters if we let it matter."
In other words, yes we have started the tour badly but in essence, it was a meaningless game and the only bearing it can have on the actual tournament is if we were to get down about it.
We still haven't clicked, there's no doubt about that, but the signs are starting to show.
One thing about Irish teams is that we always find a way to come to the party.
From my own perspective I got "in" against Scotland and then got out. I have done it three times since the turn of the year now and that's not good enough.
But the pleasing part is that I have at least been playing well to get those starts.
Hopefully a big score or contribution will come in the first couple of games in the World Cup proper.
We will have two good days practice before the game on Monday and we will be ready.
It's a good time to be playing the West Indies but make no mistake, they are still a very dangerous side.
Families begin arriving once we get back to Australia, something that is so important to both them and us.
Touring and being away for long periods can take its toll, so it will be great to have them in Brisbane. Here's hoping I'll be reporting a great win after Monday.