World Cricket League: Guernsey miss out on hosting 2015 event
By Brent Pilnick
BBC Sport
Last updated on .From the section Cricket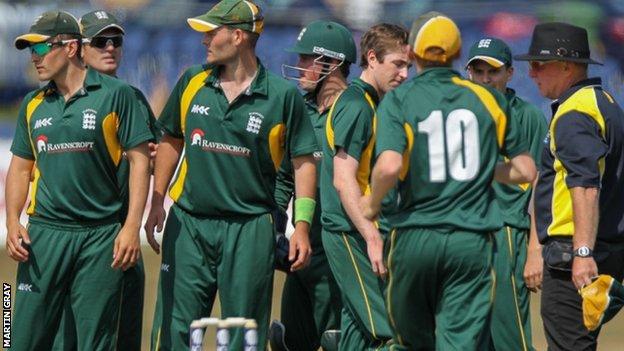 Guernsey have missed out on the chance to host the 2015 ICC World Cricket League Division Six tournament.
Essex will host the event in early September after the island's bid, and one from Vanuatu, were rejected.
"Ultimately it's come down to cost as it's funded by the ICC," Guernsey Cricket Board chief executive Mark Latter told BBC Sport
"They looked at the Under-19's event in Essex last year and they thought that was a better option this time."
Guernsey last year and must reach the final to gain promotion in the summer.
The island last hosted a World Cricket League tournament in 2009 when they lost in the final of Division Seven to Bahrain.
World Cricket League Division Six nations

Guernsey

Saudi Arabia

Cayman Islands

Fiji

Vanuatu

Ghana/Botswana

Suriname

Norway/France
"At least it's in our hemisphere, it's in our seasons and we haven't got to acclimatise," said Latter.
"Most of our World Cricket League has been in Asia and you have to go out a week early to acclimatise.
"The number one priority is to go back to World Cricket league Division Five. We'll have to be on our 'A' game to qualify, that's for sure."
Both Guernsey and Vanuatu would have had to share the eight-team event with another host as neither island has enough grass pitches.
"We would have hosted with either Jersey or Sussex, while Vanuatu were going to use Brisbane in Australia," added Latter.
"Unfortunately the Channel Islands is an expensive place to come. My players had been looking forward to possibly going to Brisbane, so I've now got to sell them the delights of Southend Pier."