Hampshire: Ageas Bowl hotel finally set to be completed
Last updated on .From the section Cricket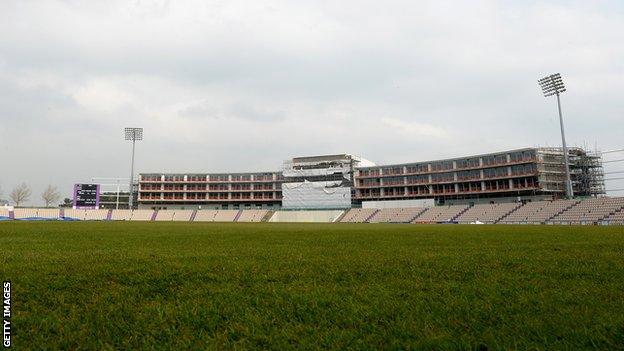 The Ageas Bowl hotel is finally set to be completed in April - nearly four years after the original deadline.
Powells Group took over construction just under a year ago and "practical completion" is set for 13 April.
The £38.5m build also includes a golf course, hospitality facilities and a new media centre.
"This previous winter was storms, bad weather and howling gales, so it was in a bit of a state when we took it over," Gordon Wells, chairman of Powells Group told BBC Radio Solent.
"There have been such a lot of unknown factors that have come up, a lot of it to do with the state of the building."
The hotel itself will come in slightly under the original £32m budget and the first paying guests are due at the end of May.
The golf course is further behind, though, and will open nine holes for summer 2016, with the full course ready the following year.
And Wells said it has been a challenge to keep the project on track because of the state they found the building in when they took over.
"It was big, wet empty shell with a lot of deteriorating panels, surfaces and a roof and structure that had been left open to the elements for the best part of six months," said Wells.
"The building was totally saturated, mouldy walls, soggy wet floors, peeling paint. Wind had ripped up roofing sheets and the insulation was wet."
The venue has seen constant re-development in recent years with the club attempting to attract regular Test cricket and the hotel is seen as an important aspect of the expansion.
There is tough competition for high-profile fixtures with the traditional grounds dominating, but the Ageas Bowl is seen as a genuine rival.
Former England captain Michael Vaughan has praised the ground, saying in 2013: "As a venue for delivering one-day cricket the Ageas Bowl is the best in the country."
The ground first hosted Test cricket in 2011 and featured in the 2014 Test series against India, but missed out on inclusion in the 2019 Ashes series.