Cricket World Cup: Chris Gayle retweet reignites Windies row
Last updated on .From the section Cricket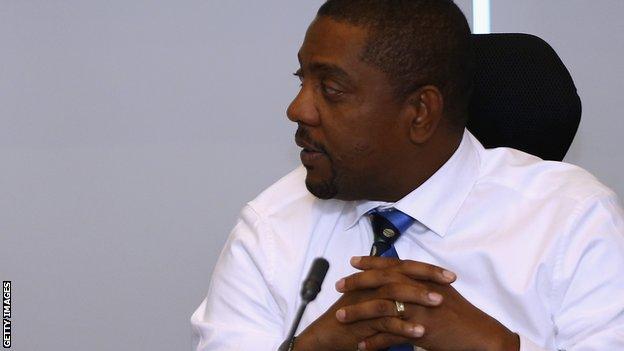 The president of the West Indies Cricket Board has restarted a row with the country's players after retweeting a fan's criticism of Chris Gayle.
While the match was in progress, WICB president Dave Cameron retweeted: "Gayle goes... Can't buy a run. Let's give him a retirement package..."
The West Indies Players Association said it was "extremely disturbed".
Cameron later removed the post from his account and tweeted an apology.
"No offence intended. Full apologies extended. Rally round the West Indies," he said.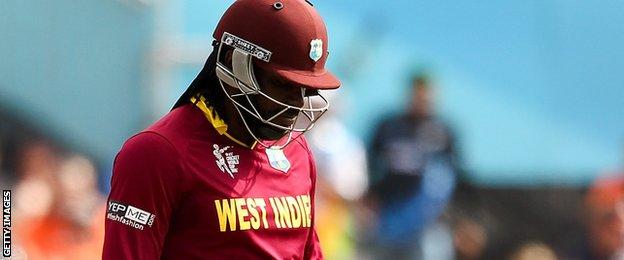 Speaking ahead of his side's Pool B game against Zimbabwe on Tuesday, Windies captain Jason Holder defended 35-year-old Gayle, who has scored 8,921 runs, with 21 centuries and 46 half centuries but has not reached 50 in his last nine international innings.
"Chris is awake. I can assure you he's awake," Holder said. "Every time I see Chris Gayle, I expect to see one Chris Gayle, and that's a positive Chris Gayle.
"Although he hasn't been getting runs, we still have a lot of confidence in him."
Relations between the board and players' union are strained after West Indies abandoned their tour to India in October because of a dispute over contracts and payments.
All-rounders Kieron Pollard and Dwayne Bravo were omitted from the squad for the World Cup, and fast bowler Jason Holder, 23, was appointed captain amid criticism of the selections.
"We denounce any such behaviour by any official of the WICB in any given circumstance," said WIPA president and former Windies top-order batsman Wavell Hinds.
"WIPA has written to the WICB requesting a full explanation."
West Indies' next match at the World Cup is against Zimbabwe in Canberra on Tuesday.