Sachin Tendulkar's support for associates welcomed by Ireland
Last updated on .From the section Cricket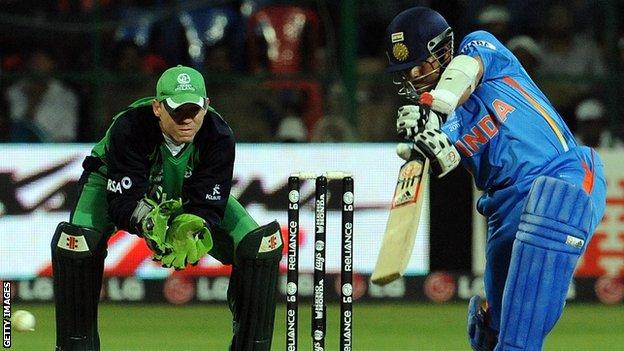 Ireland's Niall O'Brien has welcomed a call from Indian great Sachin Tendulkar for associate nations to be given more opportunities at international cricket's top table.
Tendulkar wants nations such as Ireland and Afghanistan to be able to play more games against full member countries.
Sri Lanka batsman Mahela Jayawardene has also criticised cutting teams at the next World Cup to 10 from 14.
"Great to see @sachin-rt getting behind Ireland etc," O'Brien tweeted.
"Couldn't have wished for a better supporter for us."
Tenduklar, who retired 16 months ago after a glittering career with India, made his comments at the International Cricket Council's Google Hangout on Sunday.
"To play against them every four years (is not enough) and we need to look into it and look to encourage them more by making them play international games against the top sides," the 41-year-old said.
"When you want the game to globalise, we need to encourage more and more teams to participate, obviously not at the cost of dropping the standard of play.
Ireland's Cricket World Cup Pool B fixtures

Date

Opponent / result

Venue

Monday, 16 February

beat West Indies by 4 wickets

Nelson (NZ)

Wednesday, 25 February

United Arab Emirates

Brisbane (Aus)

Tuesday, 3 March

South Africa

Canberra (Aus)

Saturday, 7 March

Zimbabwe

Hobart (Aus)

Tuesday, 10 March

India

Hamilton (NZ)

Sunday, 15 March

Pakistan

Adelaide (Aus)
"We need to look at how we can get these guys to raise their standard of playing and I think the standard of playing is only going to rise when they start playing against the top sides."
Jayawardene made the point that his country, World Cup winners in 1996 and runners-up in the last two editions, might never have had those opportunities without a leg-up from global administrators.
The Sri Lankan's remarks were retweeted by O'Brien.
"Sri Lanka got that same opportunity in 1975 as an associate member," Jaywardene said after his century helped Sri Lanka edge out Afghanistan on Sunday.
"If we hadn't had that opportunity, we probably wouldn't have been here. So I think it's important that we nurture and we look after these associate members.
"They are playing some good cricket. Give them the opportunity they deserve."
Ireland further advanced their claims for Test status by beating West Indies in their World Cup opener last Monday and will be on the brink of a coveted quarter-final place if they beat United Arab Emirates in Brisbane on Wednesday.
After Ireland's opening World Cup win last week, former West Indian great Michael Holding said the Irish should be granted immediate Test status.