Mike Hendrick: Shropshire enlist help of former England bowler
Last updated on .From the section Cricket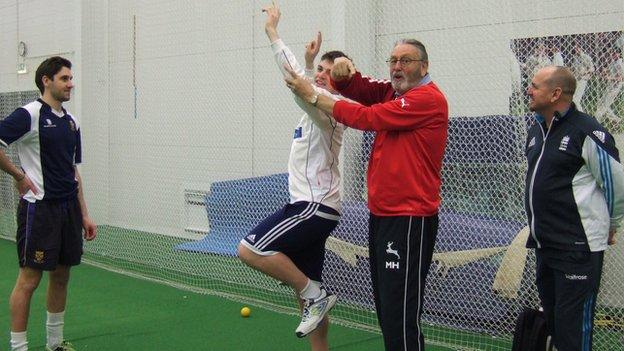 Shropshire have called on former England seam bowler Mike Hendrick to help with their pre-season coaching.
"Hendo's been down four times and has a couple more sessions to do," said Shropshire coach Karl Krikken.
"He also coaches at Nottinghamshire and it's great for our seamers to have the chance to work with him.
"They've read up all about him on the internet. He was the leading wicket-taker at the 1979 World Cup, so they're enjoying learning from him."
Krikken, about to embark on his second season with Shropshire, has also invited former England spinner Jack Birkenshaw to pre-season training.
"Birky's now going to come down for a couple of sessions and work with the spinners so that will be a good experience for them," said Krikken.
Shropshire call on England pedigree
Former Derbyshire and Nottinghamshire paceman Mike Hendrick played 30 Test matches for England between 1974 and 1981. He has since coached both his former counties. He spent four years coaching Derbyshire from 2004 to 2008 and has since been back on the staff with Nottinghamshire.
Ex-Yorkshire, Leicestershire and Worcestershire spinner Jack Birkenshaw appeared in five Tests (all of them abroad) between 1972 and 1974. He coached Leicestershire to two Championship wins in three years, in 1996 and 1998, before becoming England women's assistant coach in 2008.
"I've known both of them a long time and worked with them in the past when I was with Derbyshire.
"Pre-season's going great. The lads are working hard and are very receptive to trying things so hopefully it will help us hit the ground running when the season starts."
Shropshire's season is scheduled to start with a Unicorns Trophy game against Cumberland at Shrewsbury's London Road on Sunday 19 April.
They will chiefly be looking to improve on last season's Minor Counties Championship campaign when they rallied from an unsettling start.
As well as losing skipper Richard Oliver to Worcestershire, they had to undergo a second change of captaincy when Anthony Parker stood down, but bounced back well from defeats in their first two games to emerge as outside challengers for the Western Division title under new skipper James Ralph.