Cricket World Cup: Reduction in teams for 2019 'a nonsense'

By Jonathan Agnew
BBC cricket correspondent
Last updated on .From the section Cricket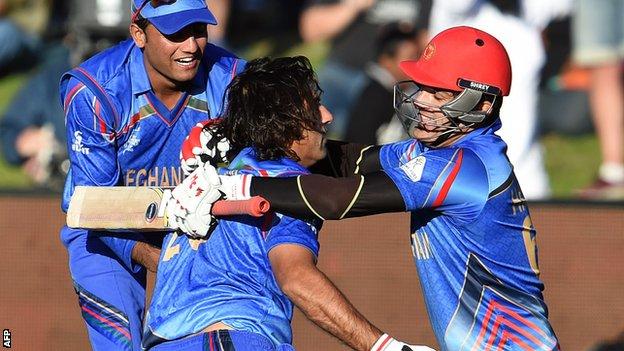 Everyone has the right to change their mind and I have changed mine.
Before the 2007 World Cup in the Caribbean, I took part in a piece for a newspaper where I argued that the Associates, or non-Test playing sides, should not be part of the World Cup.
I based this argument on what I had seen four years earlier in South Africa, Zimbabwe and Kenya - a very disappointing tournament.
For various political reasons, England did not play in Zimbabwe and New Zealand did not travel to Kenya, meaning those two African sides made it through to the Super Six and, in Kenya's case, the semi-finals.
What followed was a series of poor contests, watched by small crowds. As cricket's premier global tournament, it was a poor advert for the game.
And so, my opinion on 2007 was formed. Subsequently, over the eight years that have since passed, I have been proved wrong.
This isn't only because of Ireland's wins against Pakistan, England and West Indies, but because all of the Associates have improved out of sight.
Not only have the non-Test sides proved that they belong at the World Cup, they are also serving up the most dramatic games of this 2015 edition in Australia and New Zealand.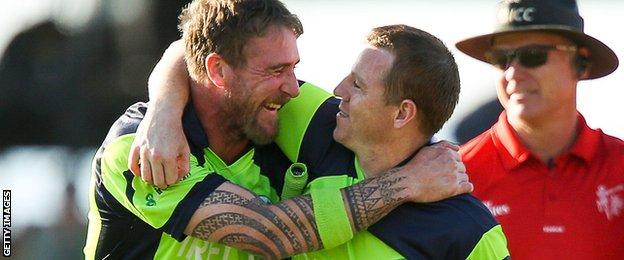 Afghanistan's thrilling last-over success against Scotland came less than 24 hours after Ireland's two-wicket win over the UAE.
Which brings us to the International Cricket Council's plan to cut the World Cup from its current 14-team format to 10 sides for the 2019 event in England.
Put simply, this is a nonsense.
How can cricket's governing body argue with any credibility that cutting the number of teams involved in a World Cup is good for the global game? There is no logic to that claim.
The ICC is supposed to be encouraging the development of the game outside of its traditional Test powers. How can blocking other nations from taking part in the World Cup be good for the growth of the sport?
Cricket World Cup team numbers and formats

1975:

8 (two groups of four)

1999:

12 (two groups of six)

1979:

8 (two groups of four)

2003:

14 (two groups of seven)

1983:

8 (two groups of four)

2007:

16 (four groups of four)

1987:

8 (two groups of four)

2011:

14 (two groups of seven)

1992:

9 (one group of nine)

2015:

14 (two groups of seven)

1996:

12 (two groups of six)
The Associates - in the case of this World Cup, Ireland, Scotland, Afghanistan and the UAE - are all serious cricket teams.
They employ influential coaches - the likes of former West Indies batsman Phil Simmons and former England all-rounder Paul Collingwood - and have been given money from the governing body to improve cricket in their respective countries.
What is the point of giving them funding if you then don't include them in your premier tournament?
They have all performed at one point or another in this World Cup. Look at the way the UAE pushed Ireland all the way in Brisbane on Wednesday.
One could argue that Scotland's bowlers buckled in the final 10 overs against Afghanistan, but that made for a fascinating finale and one that they will learn from.
The plan to cut the next World Cup to 10 teams is a result of the criticism the ICC have received for the length of these tournaments.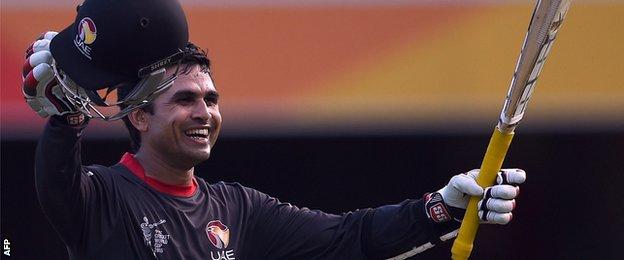 Once again, we are in the midst of a 49-game, six-week marathon.
However, the problem does not lie in the amount of teams taking part, rather in the format and the scheduling.
But, solving this is not rocket science. By playing two games in a day more often, the tournament could be cut to a timeframe that is more engaging for the fans.
In this part of the world, which lends itself so well to day-night cricket, you play a game involving one of the lesser teams during the day and begin your blockbuster main event between two major sides in the afternoon.

Even in four years' time in England, which is poorly suited to day-night cricket, you can still play two games in a day because of the options available to viewers, the likes of red button and online streaming.
Yet, despite knowing that their tournament is too long, the ICC is reluctant to tinker with the length, because they have received $2bn for the television rights.
In accepting such a huge sum of money, they have given away too much power to the TV companies, who want as long a tournament as possible to fill airtime and sell advertisements.
Yes, money earned from TV rights goes back to the Associate nations, but there has to be a balance.
If it was a case of earning less money but doing what is right for the game, then do what is right for the game.
Through all this, it is worth remembering that we have been in this position before. Indeed, this current tournament was supposed to see a reduced number of teams before the ICC changed its mind.
I'm pleased to see the comments of ICC chief executive Dave Richardson, who has said that the format of the 2019 World Cup could yet be up for negotiation.
With every impressive Associate performance, that debate will become more vociferous. Imagine how loud the voices will be if Ireland reach the quarter-finals?
It was Scotland captain Preston Mommsen who said that a reduced World Cup would simply become an expanded Champions Trophy - a one-day tournament only for the Test-playing, most powerful cricket teams on the planet.
Mommsen is right. The World Cup, by its very name, should be for the whole world.