Kevin Pietersen: Which counties want to help his England chances?
By Timothy Abraham
BBC Sport
Last updated on .From the section Cricket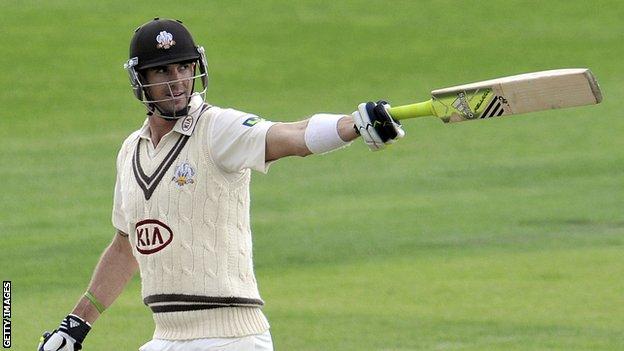 Kevin Pietersen's potential England return requires him to score heavily in county cricket this summer - but which counties, if any, are prepared to give him that opportunity?
The batsman, 34, had his international career ended by the England and Wales Cricket Board (ECB) in February 2014 but was given encouragement that he might be able to return to the team in future by incoming ECB chairman Colin Graves.
Graves said the selectors "can't ignore" Pietersen if he "scores a lot of runs" for a county, which would be the first step back towards resuming his international career.
Pietersen said he is "going to try to work this out for sure" while the ECB clarifed that "only players who are playing consistent high-quality county cricket and who are seen as a positive influence will be selected".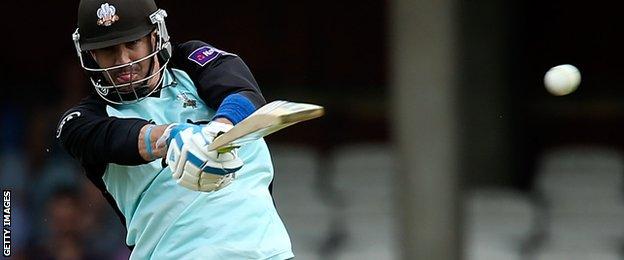 The 2015 county season starts on 12 April but Pietersen is scheduled to play for Sunrisers Hyderabad in the Indian Premier League (IPL), which takes place between 8 April and 24 May.
He also has commitments to the Caribbean Premier League, which is being held in June and July, and there is the possibility of him working in the media during the summer.
Pietersen featured in the T20 Blast for Surrey last summer but his registration with the county was cancelled at the end of the season. He has previously played for Nottinghamshire and Hampshire in county cricket.
BBC Sport spoke to several county sides to gauge whether they would be prepared to give Pietersen the chance to play domestic cricket with them in the 2015 season.
Hampshire - 'no problems employing him'
Hampshire are currently coached by Dale Benkenstein, who, at Natal, captained Pietersen in domestic cricket in South Africa. Hampshire chairman Rod Bransgrove says that he would have no issues in signing Pietersen but their squad plans for the forthcoming campaign have already been finalised.
"Our squad is set for the season," Bransgrove told BBC Sport. "But I would have no problems employing him as a person I have no doubts that he will find a county if the terms are right."
Pietersen joined Hampshire in October 2004 to play under the captaincy of Australian Shane Warne who described him at the time as "most exciting prospect on the county circuit", but his appearances were heavily limited by his central England contract.
The South Africa-born batsman played in seven first-class matches for Hampshire before his departure in 2010, when he claimed Southampton was too far to travel from his home in Chelsea.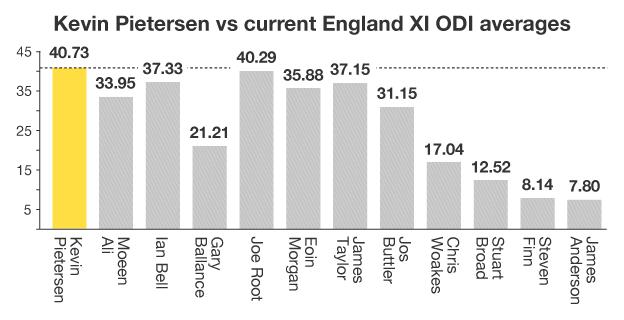 Surrey - link up again with mentor?
After leaving Hampshire, Pietersen joined Surrey on loan for the rest of the 2010 season and turned it into a permanent move in 2011. Pietersen made nine first-class appearances for Surrey, with his most recent in 2013 against Yorkshire where he scored an unbeaten 177.
Last season Pietersen only played Twenty20 cricket for Surrey, scoring 225 runs in 12 matches at an average of 22.50. Surrey coach Graham Ford is a long-standing mentor for Pietersen, whom he has known since he was a boy in South Africa and in 2010 Pietersen said Ford knows "how to get the best out of me".
Surrey told BBC Sport they have no formal position concerning signing Pietersen this summer, although Ford and director of cricket Alec Stewart have both spoken positively about Pietersen in the past.
Middlesex - 'not something we would pursue'
Should a contract at either Hampshire or Surrey not materialise, then Pietersen's desire to remain in London might see him consider Middlesex.
The Lord's county, who recently signed another discarded England batsman in Nick Compton, have current England one-day international captain Eoin Morgan on their books. Pietersen claimed earlier this year Morgan would "love" to have him in the ODI side, although the Dublin-born batsman subsequently said he was "pretty surprised" by the comments.
However, Middlesex director of cricket Angus Fraser told BBC Sport: "We're happy with the squad we have in place for the coming season. It's not something we would to look to pursue."
Geoffrey Boycott on Kevin Pietersen
"It needs to be put clear to Kevin that if he plays well in county cricket then there's going to be a genuine - and I mean the word genuine - change of heart and change of opinion that he is going to be open for selection and that they are going to put bygones to one side. I don't think that it is fair to ask anybody to give up an IPL contract because that's all he has. He only has T20 around the world."
Lancashire - play for a fellow Ashes 2005 hero?
Lancashire head coach and director of cricket Ashley Giles, who took over at Old Trafford in October, was a team-mate of Pietersen's during his England career, including the 2005 Ashes-winning side.
Pietersen claimed in June last year that one of the reasons Giles missed out on the job as England coach was because he was "too close to me for the ECB's liking". However, Giles had previously stood by the ECB's decision to discard Pietersen when he was England's limited-overs coach.
The Red Rose county did not wish to comment on whether they would be interested in signing Pietersen when contacted by the BBC.
The others
Pietersen began his county career in England with Nottinghamshire but his controversial autobiography, in which he was critical of director of cricket Mick Newell, would make a return to Trent Bridge unlikely.
A Nottinghamshire spokesperson said: "Players at Trent Bridge are judged on merit and ability, and should any potential player possess the qualities that Mick Newell would like then they will be considered. In this instance, it would take something extraordinary for it to happen."
Glamorgan captain Jacques Rudolph said he and his team-mates would be "very happy" to have Pietersen at the Welsh county.
The ex-South Africa batsman told BBC World Service: "I played with KP and I know there has been trouble with the ECB, but he's a world superstar when it comes to cricket... I hope they can sort out their differences and he can play international cricket again."
Warwickshire said signing Pietersen is "not something they would be interested in", spokesmen for Kent and Somerset said their counties did not comment on speculation, Gloucestershire did not have anyone available for comment, while Leicestershire, Essex, and Worcestershire also declined to comment.
Derbyshire, Durham, Northants, Sussex and Yorkshire could not be reached for comment.
Details correct as of 2 March.