Cricket World Cup 2015: Spinners, streakers and were England right?
By Stephan Shemilt
BBC Sport in Napier
Last updated on .From the section Cricket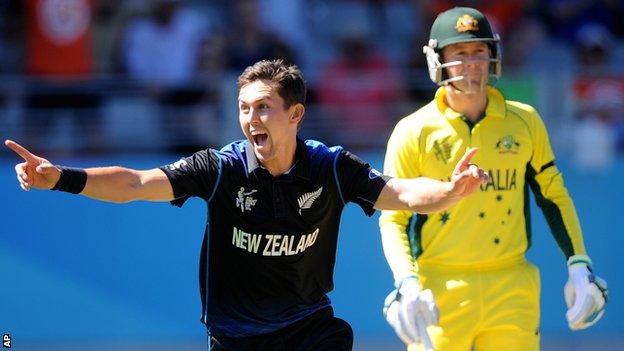 Record-breaking batsmen, battered bowlers and awful England.
Now two weeks old, the World Cup has seen dazzling displays from AB de Villiers and Chris Gayle, debate over whether the likes of Ireland and Afghanistan should be included next time and familiar English disappointment.
The tournament is 23 games into a 49-match marathon, and takes a rest on Monday.
With nearly all of the 14 teams at least halfway through their group fixtures, what have we learned?
England were right… sort of
Considering they've taken three frightful beatings, the revelation that England's approach to this World Cup has been right all along is perhaps the biggest surprise of the tournament so far.
As pressure mounted on former captain Alastair Cook at the back end of 2014, England were regularly criticised for their ponderous approach at the beginning of an innings.
Defending Cook in September, coach Peter Moores said: "You've got to keep wickets in hand to strike at the end."
When it comes to this World Cup, Moores was right.
In all one-day internationals played in 2013 and 2014, teams batting first scored an average total of 277 if they lost two wickets or fewer in the first 20 overs. So far at the World Cup, that average jumps a huge 30 runs to 307.
However, not everyone at the England and Wales Cricket Board is on the money.
On Sunday, new chairman Colin Graves said that batting in the World Cup is "very aggressive early on".
In fact, the average 10-over total of teams batting first at this World Cup is almost four runs down compared to 2011.
The thinking of England's players and staff may just be correct. It's the execution that's awry.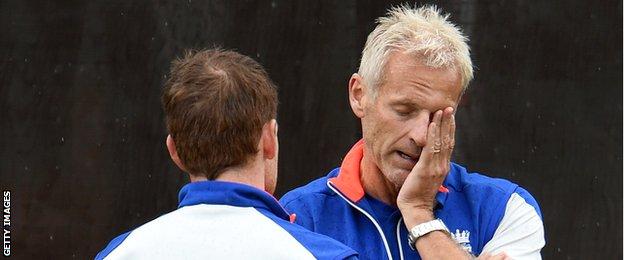 Bat first in Australia
Of the 10 completed matches played in Australia, eight have been won by the side batting first.
Are Australian conditions better for batting? The stats suggest not - of the 12 first-innings totals of 300 or more, there is an even split of six in Australia, six in New Zealand and, in New Zealand, there have been three successful chases in excess of 285.
Is it the challenge of chasing under lights? Perhaps - every game in Australia has been a day-nighter, whereas the big pursuits in New Zealand have all been in day games.
This will become more of an issue as the tournament progresses. Three of the four quarter-finals are to be played in Australia, along with one semi and the final in Melbourne. Could the biggest matches be decided by the toss?
"That certainly could be the case," said BBC cricket correspondent Jonathan Agnew. "The players have to try to take the toss of it, particularly by bowling well. If they don't, chasing becomes more difficult because of scoreboard pressure."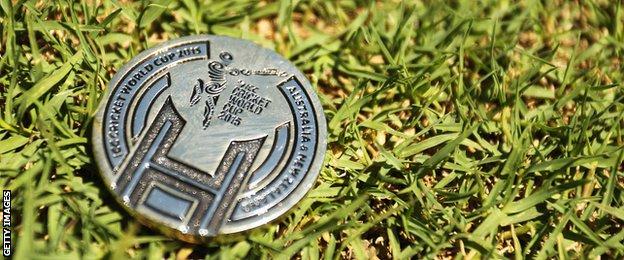 Do BBC Sport readers know more than WICB?
Before the tournament, we asked you to vote on the greatest one-day international XI of all time.
You chose Chris Gayle as one of the openers, despite the West Indies left-hander being in the middle of a poor trot that saw him manage only 199 runs in 12 innings.
After he was out for four against Pakistan, West Indies Cricket Board chairman Dave Cameron retweeted a criticism of Gayle that read: "Gayle goes... Can't buy a run. Let's give him a retirement package..."
On his next visit to the crease against Zimbabwe, Gayle sparked to life in record-breaking fashion, smashing the first double century in World Cup history.
His 215 included 16 sixes, equalling the world record, and also made him the first batsman to score a triple century in Tests, a double hundred in ODIs and three figures in a T20 international.
"It was a phenomenal innings," said West Indies great Sir Viv Richards. "The stuff champions are made of."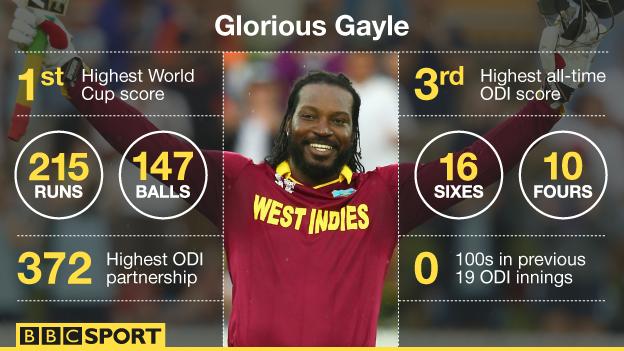 Spin can still play a part
It was thought that spin bowling would be pushed aside in this World Cup.
Conditions in Australia and New Zealand are more suited to the pacemen and the International Cricket Council's clampdown on illegal bowling actions has hit leading spinners.
Saeed Ajmal and Sunil Narine, first and second in the ICC's ODI bowling rankings, are both absent after seeing their actions come under scrutiny, as is world number 15 Mohammad Hafeez - who was prevented from playing as a batsman by injury.
But three of the tournament's eight leading wicket-takers are spinners - Imran Tahir, Ravichandran Ashwin and Daniel Vettori - and, overall, the slow bowlers are conceding fewer runs per over (5.09) than the seamers (5.61).
"The conditions are inhospitable for spin bowlers," said former New Zealand captain Jeremy Coney. "But we are seeing that they can still be affective with what they bring to the game - guile, deception and flight that asks questions of the batsmen."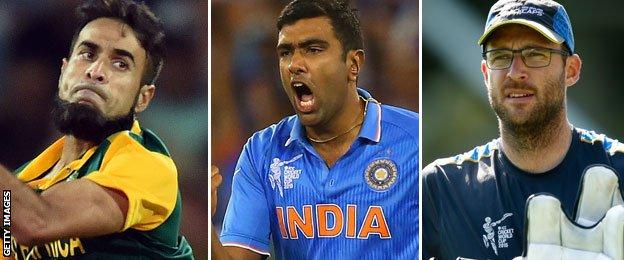 Bowlers are not adapting
Bigger bats, smaller boundaries and bowling restrictions - we're constantly told that it's a batsman's game.
The most common reason given for this World Cup being the most run-laden of all-time - the run-rate of 5.55 per over after 23 matches is far higher than all previous editions - is that fielding sides can only have a maximum of four men outside the 30-yard circle, as opposed to the previous limit of five.
The rule was changed at the end of 2012 and, rather than having an immediate effect, gradually increased the amount of runs scored.
At the 2011 World Cup, the average runs per over was 5.03, while between 2013 and 2014 it was 5.20.
Batting has slowly changed to take advantage of the new regulations, while bowlers are yet to adapt.
"The batsmen have taken the game to a different level," said England pace bowler Chris Woakes. "We're behind at the minute, so we have to catch up and adapt to the scenarios that are put in front of us."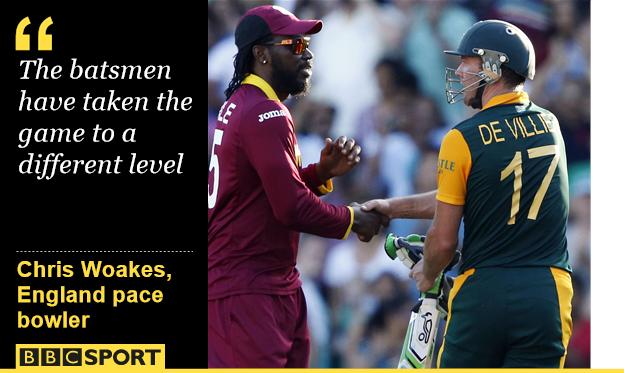 Ex-pros love a streaker
If you think it's the cricket that most excites the ex-pros who serve as radio and television pundits, think again.
As the Aussies were destroying England in Melbourne, news of a streaker caused former Australia internationals Shane Warne, Michael Slater and Brendon Julian to rush into the Test Match Special box to get a better view.
During England's game with Scotland in Christchurch, another pitch invader earned the biggest cheer of the day by evading security and making it all the way across the pitch and escaping behind the broadcast area.
Former England batsman Geoffrey Boycott saw the naked intruder hop over a perimeter fence, marvelling at his "wonderful athleticism".
It wasn't just Boycott that was impressed, though. The streaker was front-page news in New Zealand the next day.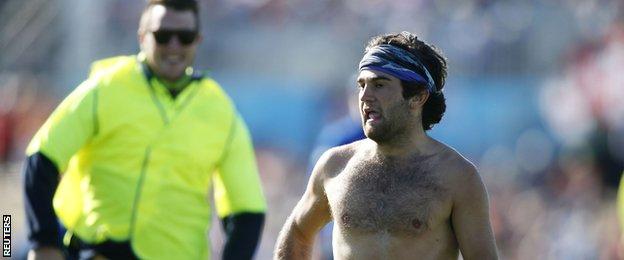 And some other things…
The Associates are vastly improved,

and they could be around in four years' time. A series of impressive performances, including

Ireland's win over West Indies,

may have forced a re-think of plans to cut the next World Cup to 10 teams from the 14 competing in 2015. The 2019 format will be "debated" when this tournament has finished, according to ICC chief executive Dave Richardson.

The close games might be few and far between, but that's nothing new. In fact,

we're doing well for drama in 2015.

In 2011, just one game was won by two wickets or fewer - we've already had three in this tournament. Similarly, five run chases were completed inside the final two overs of the entire 2011 competition. Already we've had three.

In case you needed it confirming,

300 really is the new 250.

In the 2011 World Cup, 27% of teams batting first posted a total between 250 and 299. In this tournament, 54% of teams batting first have registered scores in excess of 300.
Statistics by BBC Test Match Special's Andrew Samson.
Listen to highlights from Test Match Special's and 5 live Sport's 2015 World Cup coverage.