Cricket World Cup 2015: Ireland relishing South Africa showdown
By Gary Wilson
Ireland wicketkeeper
Last updated on .From the section Cricket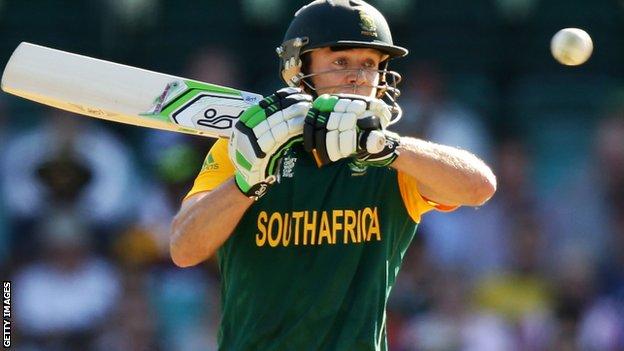 Ireland and Surrey wicketkeeper Gary Wilson looks ahead to Tuesday's World Cup Pool B game against South Africa.
There may be a few places between us in the ICC ranking tables, but on Tuesday we fully believe that it is possible to get a result against South Africa.
At the same time, we are under no illusions. They are obviously a quality side, packed with world-class players.
Not least their captain AB de Villiers - AB is no stranger to our shores, having blasted no fewer than two double hundreds while playing for Carrick CC 10 years back.
I remember someone telling me then that he was close to playing for South Africa. I thought to myself, surely not.
That was not because I doubted his ability, far from it. It was clear that he was a serious player, I just couldn't believe that a player who was playing in the NCU, our little union, was so close to playing on the world stage.
Now he dominates it. Of course, we will have our plans for him. He is human after all. Albeit very nearly superhuman!
Our bowlers have been taking some criticism over the past couple of weeks, both our bowling innings have taken a similar pattern - early wickets or at least a stemming the flow of runs, and then teams have cashed in at the death.
Ireland's remaining Pool B fixtures

Date

Opponent

Venue

Tuesday, 3 March

South Africa

Canberra (Aus)

Saturday, 7 March

Zimbabwe

Hobart (Aus)

Tuesday, 10 March

India

Hamilton (NZ)

Sunday, 15 March

Pakistan

Adelaide (Aus)
Let's be honest though, nearly every game in the tournament thus far has taken that route. It is simply the way teams are playing - with the rule of just four men being allowed out of the 30-yard circle.
It just makes it so hard to defend in those late overs and to be able to cash in, you need to make sure you have wickets in hand.
That is the way we have played it. I'm trying to defend our bowlers to an extent, yes, but we are also aware that we need to be better.
To have had the UAE in the position we did and not close the game out there and then was disappointing. We are working hard and I know we will get better as the tournament goes on.
I had a coffee this evening with Adi Birrell and Hashim Amla. Two really great guys. Obviously I knew Adi well from his time with Ireland - I was a Birrell disciple.
If Adi had told me to stick my head in the fire I would have said how high… or something along those lines.
I know William Porterfield was the same and Adi appreciated the loyalty. We have kept in touch since he left and it was great to catch up.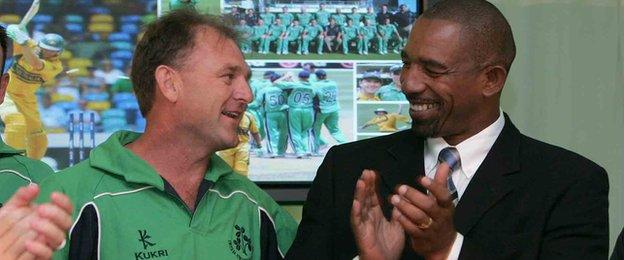 Hash I know from his time with Surrey over the last two years. The guy is arguable the best player in the world, yet he is the most humble man.
Being able to share time with these types of guys is what playing in World Cups is all about.
Sure it is about winning games and creating history and we hope to do that, but I am so grateful to be in a position where I have made many good friends out of doing what I love.
I was asking Adi on Sunday to see if he could do his team a favour and break a few fingers in fielding practice, but he reported back that everyone was fine and ready to go. There is no doubt the South Africans will not take us lightly.
I'm sure they wouldn't have anyway but Adi has been at the helm of too many great Irish victories himself for even the smallest bit of complacency to creep in to their camp.
No one is giving us a chance to win this game, I even signed a bat for a lady at training who told me to write this game off and just concentrate on Zimbabwe on Saturday… she obviously doesn't know how we work things!
Cricket World Cup Pool B: South Africa v Ireland
Venue:
Manuka Oval, Canberra
Date:
Tuesday, 3 March
Start:
03:30 GMT
Coverage:
Live Test Match Special commentary on BBC Radio 5 live sports extra & BBC Sport website, plus desktop, tablets, mobiles and app; live text commentary