Cricket World Cup 2015: Misbah-ul-Haq on life as Pakistan captain
By Stephan Shemilt
BBC Sport in Auckland
Last updated on .From the section Cricket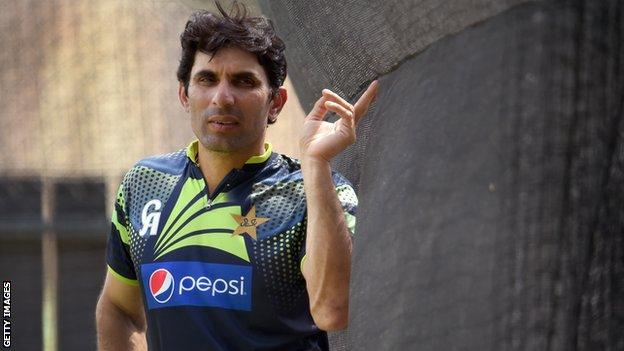 As job advertisements go, it is not appealing.
"Wanted. Captain to lead international cricket team dogged by spot-fixing controversy. No matches can be played in our home country and you will eventually lose two of your leading bowlers over concerns about their actions.
"Post has had five incumbents in past four years, so do not expect job security."
Misbah-ul-Haq has not only survived in the role of Pakistan captain; he has been a success. His 15 Test wins are more than any other skipper has managed.
As he prepares to retire from limited-overs cricket after the World Cup, there are plenty of subjects on which the 40-year-old gives considered, honest and heartfelt views.
How did you deal with the aftermath of the 2010 spot-fixing saga? Has the International Cricket Council unfairly treated Saeed Ajmal over his bowling action? How disappointing is it to have never led your country on home soil?
But first, the big one.
Are you responsible for the Indian Premier League?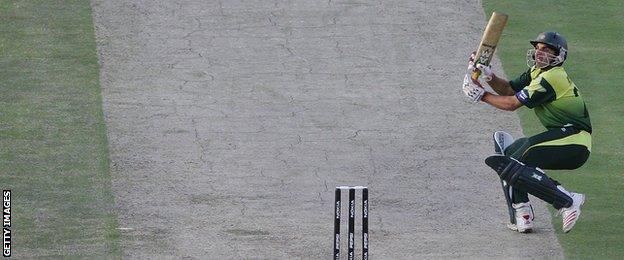 As a quick refresher, in the inaugural World Twenty20 final in 2007, Misbah was at the crease in the last over with six runs needed to win.
His scoop shot was caught a short fine leg, India were crowned champions and, according to the Times of India, "T20 became phenomenally popular and the IPL cashed in".
"I don't know if I'm responsible," Misbah told BBC Sport. "The 2007 World T20 gave a message to the whole world that T20 was cricket's future.
"Would the IPL have happened if Pakistan had won? I don't know, but the rival Indian Cricket League had already arrived."
It was the shortest form of the game that ignited Misbah's staccato international career, one that had previously suffered from inconsistency and the presence of Inzamam-ul-Haq, Mohammad Yousuf and Younus Khan in the Pakistan middle order.
Another poor trot saw Misbah once again left out of the squad to tour England in 2010. At the time he said "it prompts you to burn all your cricket equipment in anger".
The way it turned out, it was probably good fortune for Misbah that he wasn't there.
As he watched from afar, Pakistani cricket was plunged into darkness by the spot-fixing of captain Salman Butt and fast bowlers Mohammad Asif and Mohammad Amir.
Misbah in numbers

Matches

Runs

Average

Tests

53

3,736

49.15

ODIs

159

4,993

43.41

T20s

39

788

37.52
In the aftermath, the national side turned to Misbah's calming influence. His first match as captain was also his Test recall.
"I realised it was time to take responsibility," said Misbah.
"You have to stand up, show the world that you are a good cricketing nation, not only with your performances, but also your conduct and behaviour.
"You can still be professional, you can still amaze people and fans can enjoy your cricket. That was the challenge at that time."
Misbah was 36 when he took the helm, but experience and an unflappable nature were not the only things he bought to his captaincy. A masters in business management helped too.
"I learned about human resource management, about leadership," said Misbah. "If you have education in your life, it really helps you to become a good human being. It helped me."
Misbah's impact on the Pakistan team was instant and long-lasting. His team have lost only three of the 15 Test series since he took charge, all on tour.
In their adopted home of the United Arab Emirates, Pakistan are formidable, unbeaten in seven series. Whitewashes have been dished out to Australia and, famously, England in 2012.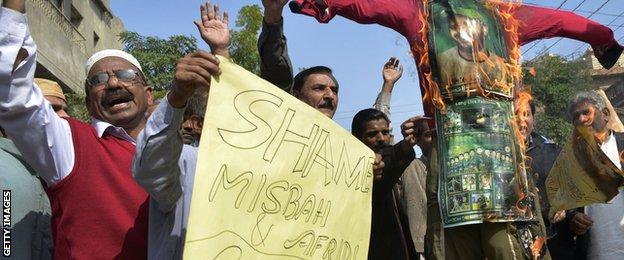 However, that Pakistan have to base themselves in Dubai, Abu Dhabi and Sharjah as a result of the 2009 terrorist attacks on the Sri Lanka team leaves Misbah with a career unfulfilled.
He has led his led his country in 34 Tests, 84 one-day internationals and eight Twenty20s, but not once on home soil. It is a situation highly unlikely to change before he retires from all cricket.
"It really hurts," said Misbah. "You grow up playing most of your cricket in Pakistan, but you can't play international cricket in front of own people.
"I don't know when it will change. It's a big question for the ICC. We can hope and pray for that it does because it should happen as soon as possible."
One would think that earning success in trying circumstances and maintaining a Test batting average of a smidge under 50 would be enough for Misbah to receive widespread acclaim in Pakistan.
Far from it. He divides opinion, mainly over one-day cricket.
Prior to the World Cup, Pakistan had lost 10 and won only three of their previous 13 ODIs, with Misbah often accused of batting too slowly.
High times
Misbah's Test average of 49.15 is the fifth highest in Pakistan history, behind Younus Khan (53.37), Javed Miandad (52.57), Mohammad Yousuf (52.29) and Inzamam-ul-Haq (49.60)
A heavy loss to bitter rivals India in their World Cup opener intensified the scrutiny and former fast bowler Shoaib Akhtar described Misbah as "cowardly" and "selfish".
The skipper has heard it all before.
"It's always like that," he said. "Criticism for the sake of criticism, criticism of personalities rather than the cricket. It is ridiculous.
"You would take constructive criticism, but damaging your country's name and the reputation of the players is not on."
Pakistan's push for a quarter-final place is back on thanks to back-to-back wins over Zimbabwe and the UAE, before Saturday's meeting with South Africa in Auckland.
Misbah is their highest run scorer in the tournament. Still, his bid to match Imran Khan's feat of lifting the 1992 World Cup here in Australia and New Zealand has been hampered by decimation of the Pakistan bowling attack.
Saeed Ajmal, ranked as the best ODI bowler in the world, had his action scrutinised and not cleared in time for the tournament, while fellow spinner Mohammad Hafeez remains banned from bowling. Pace pair Junaid Khan and Umar Gul are both unfit.
Misbah says he "isn't supposed to talk" about the ICC's treatment of his spinners, but acknowledges the difficulties of losing an entire attack.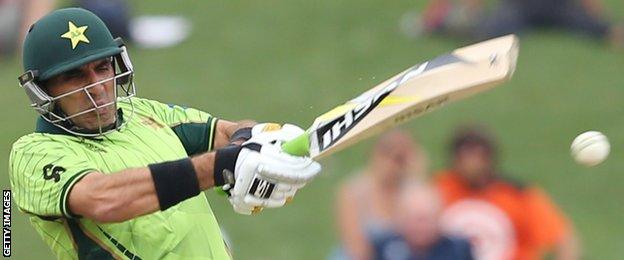 He also identifies the disadvantage of his players being unable to learn new skills in the IPL, with Pakistanis currently excluded from taking part.
"Opportunities and more exposure can make you a better player," Misbah said. "If all other countries are having that and your players are not, that can have a real effect on the quality of players you have."
And so the circle is completed, a conversation that began with the IPL ends on the same subject.
Would that 2007 World T20 final dismissal in Johannesburg be how Misbah is best remembered?
That former skippers Ramiz Raja and Wasim Akram, when asked, were both unable to identify a successor to adequately replace Misbah suggests he leaves a much bigger legacy to Pakistan cricket.
"As a player and captain, everybody knows what I am," concluded Misbah, who said he will know in "six months or a year" when he will retire from Test cricket.
"I've always tried my best to do well for my country and that's what my message is to all others who will play for Pakistan.
"Do your best and be professional. Give whatever you have to your country."
Listen to highlights from Test Match Special's and 5 live Sport's 2015 World Cup coverage.