Holly Colvin: England spinner makes comeback for Sussex
Last updated on .From the section Women's Cricket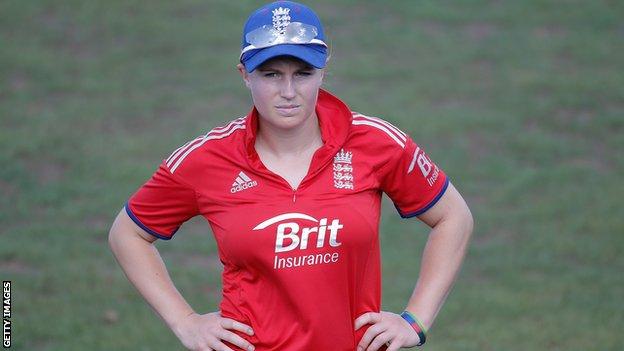 Ex-England spinner Holly Colvin will return to play for Sussex this summer.
"I'm returning so I can enjoy the game and play for the love of it - it's as simple as that," said Colvin, who made her Sussex debut in 2005.
"I have no idea if I will play international cricket in the near future or in the future at all."
Colvin's England record
5 Tests, 13 wickets, average 29.38, best bowling 3-42
72 ODIs, 98 wickets, average 21.80, best bowling 4-17
50 T20Is, 63 wickets, average 15.41, best bowling 4-9
Colvin made her international debut aged only 15 against Australia at Hove in August 2005, becoming England's youngest Test cricketer of either gender and taking 3-67 in the first innings.
The left-armer was a member of England's World Twenty20, World Cup and Ashes-winning sides in 2009.
And four years later helped Charlotte Edwards' team triumph in the new multi-format Ashes series.
"I'm really excited to play with the young talent coming through Sussex's ranks," said Colvin.
"I've only been out of the domestic game for a year and already the squad has changed dramatically, so it will be good to see what they can do."
Sussex's director of women's cricket Charlotte Burton said: "We are delighted to have Holly back playing for Sussex and are pleased we didn't have to wait long for her return to the game.
"We missed Holly last year, not just as a player but her personality in the dressing room."