Heather Knight column: England can learn from mixed NZ tour

By Heather Knight
England vice-captain
Last updated on .From the section Women's Cricket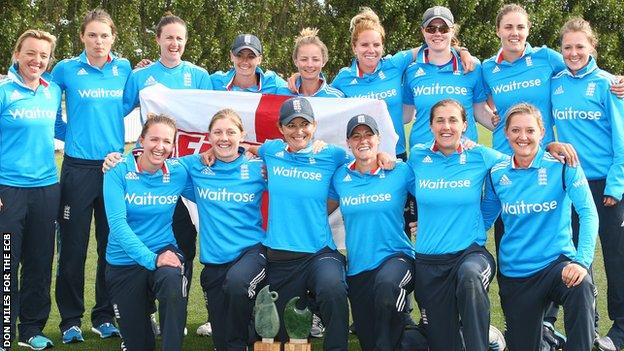 Vice-captain Heather Knight reflects on a successful end to England's tour of New Zealand, while saluting her skipper's longevity on the field - and karaoke skills off it.
After losing two of the first three one-day internationals on tour we definitely had a bit of a point to prove going into the Twenty20 series starting in Whangarei.
We did just that with a convincing win in the first of three games.
It was a real shame the game wasn't on television, not only as Lydia Greenway took a screamer of a catch on the rope (one of her best, and she's taken a few!) but also because captain Charlotte Edwards managed to trip over whilst walking in, and ended up flat on the floor, bottom in the air despite the ball being nowhere near her. That would have been the best replay ever!
The see-saw nature of the tour then continued with the White Ferns taking the second T20 to set up a series decider as we headed down to Christchurch on the South Island.
The encounter also saw Lottie, the "Queen of Cricket", captain her 200th international match for England - a pretty incredible achievement to say the least. Not only did we have a series to win at stake, but as a team we really wanted to mark Lot's 200th anniversary with a win.
We executed our bowling plans perfectly and came out positively with the bat to seal the series comfortably. It was the kind of cricket that we want to play, and it felt like we were back somewhere near our best.
After the match we had a quiet celebratory drink in the changing room to mark Lottie's 200th and toast a series win. Lot said a few words and then after our team song she treated us to her infamous karaoke number, Total Eclipse of The Heart by Bonnie Tyler - a fitting end to the day!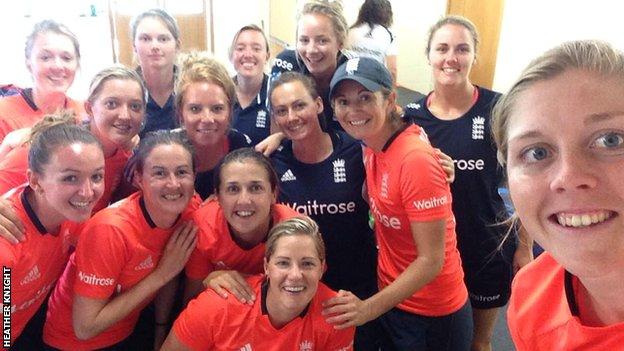 Two hundred matches as captain is a serious record, which is hard to imagine ever being beaten, particularly as she has no plans to hang up her cricket boots (or the microphone!) just yet.
It also appears she looks younger than she is, as 23-year-old Kate Cross was mistakenly congratulated by a very embarrassed Sir Richard Hadlee on her 200th match in charge!
Off the pitch it's been great to be able to watch a lot of the men's World Cup, I've been in awe of some of the performances with the bat (AB de Villiers' knock against West Indies being the highlight so far) and Afghanistan's passionate celebrations have been brilliant to see. Hamid Hassan nailed how I cartwheel perfectly…

With the T20 series wrapped up 2-1, we still had two matches to go in the one-day series. Kate Cross bowled brilliantly in the first match, picking up her first five-for in an England shirt, to help us to a nine-wicket win. I doubt it will be her last.
The final ODI saw the White Ferns come out hard at us up front, but Becky Grundy has a knack of coming into the attack and taking wickets at key times, and along with Laura Marsh, she bowled brilliantly to keep New Zealand to 230.
Some key batting performances from Sarah Taylor and Nat Sciver saw us knock off the runs with ease to win the ODI series 3-2. After we didn't perform to our best at the start of the tour, to finish so strongly was really pleasing.
It's fair to say it's been a bit of a mixed tour for us as a side, but we'll take an awful lot of learning points away, as we work towards a massive summer with the old enemy in town.
We haven't been the most consistent in New Zealand, and that's something we will definitely have to change if we're going to have a chance of defending the Women's Ashes this summer.
We now head home for a few weeks off before we turn our full attention to the English summer and the Aussies.