Don't watch the Ashes, hide behind the sofa - Mark Butcher
Last updated on .From the section Cricket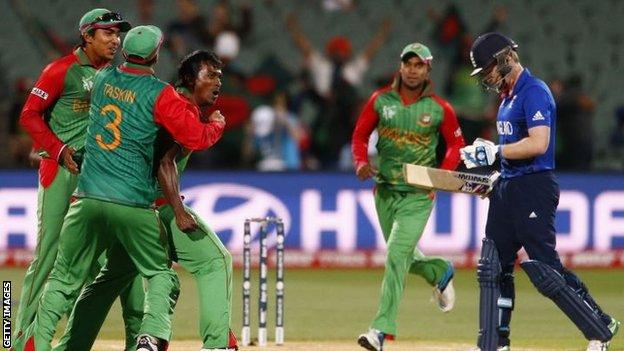 England cricket fans should "hide behind the sofa" rather than watch the Ashes this summer, says former international batsman Mark Butcher.
Speaking to Radio 5 live, Butcher told England fans to expect to an "absolute hiding" and a "horrendous six months".
He added: "When Australia come, just don't watch, hide behind the sofa."
The bulk of the Australian and New Zealand Test teams are likely to be drawn from the sides that inflicted heavy World Cup defeats on England.
Tim Southee claimed seven wickets and Brendon McCullum hit an 18-ball half-century as New Zealand claimed an eight-wicket success.
Aaron Finch then scored 135 and Mitchell Marsh took 5-33 as Australia recorded a 111-run victory.
England eventually bowed out of the tournament following a shock loss to Bangladesh on Monday.
The exit, which comes a year after a humiliating Ashes whitewash in Australia, has prompted calls for a reorganisation of English cricket and lead some critics to argue that coach Peter Moores should go.
England and Wales Cricket Board managing director Paul Downton said knee-jerk reactions to recent failures would not be made.
Butcher, who played in 71 Tests for England and scored eight centuries, said Moores remained in the job by "the skin of his teeth", but former England captain Michael Vaughan felt it was time for Moores, 52, to go.
"What is the best thing for English cricket going forward?" asked Vaughan, who captained England for 51 Tests between 2003 and 2008.
"I believe it is time to remove Peter Moores from his current position and put him in a job where he can have the biggest impact on English cricket."
Vaughan believes that means Moores, who is in his second spell in charge of England. working with younger players.
"I think he'd be absolutely suited to run the England system from around 15-20 years of age," explained Vaughan.
"He's a brilliant energiser, very good with the kids, very good with new ideas, bringing energy to young players, pressurising them, really focusing them."
Vaughan said he would bring in someone like former Australian Test bowler Jason Gillespie, who now coaches county side Yorkshire, to run the England team.
"I just think he's got that knowhow, he's got that manner, he's got that laid-back approach," said Vaughan.
"He's a guy that would take pressure off rather than put pressure on, I think that's what's required at the highest level. It's all about managing players at the highest level, not too much about coaching."
Gillespie, 39, said he was flattered to be being linked with the England job but said his mind was on his Yorkshire duties.
"Sometime in the future I have ambitions about becoming an international coach," he told Radio 5 live.
"But at this point right now we're about to leave on a pre-season tour and our focus is on that. It's absolutely Peter's job and I feel for him."