Ireland report newspaper's criticism of John Mooney to ICC
Last updated on .From the section Cricket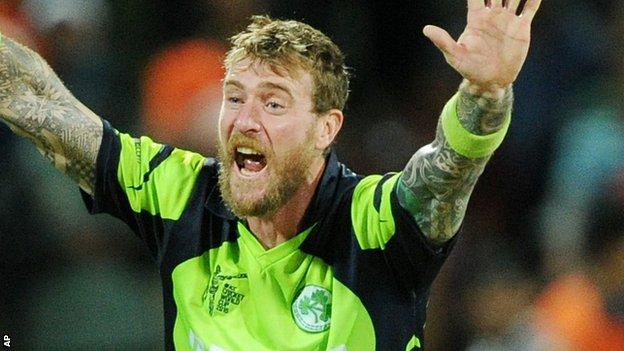 Ireland cricket authorities say they are considering legal action over a newspaper's "vicious personal attack" on player John Mooney.
The Zimbabwe Herald article questioned Mooney's honesty after his crucial catch helped knock the African nation out of the Cricket World Cup.
Cricket Ireland said the paper had "demonstrated breath-taking crassness and an error of editorial judgement."
Zimbabwe wicketkeeper Brendan Taylor has offered an apology to Mooney.
Ireland have reported journalist Robson Sharuko's remarks to the ICC.
Taylor, who stood in as Zimbabwe's captain against Ireland, felt obliged to apologise.
"On behalf of the Zimbabwe cricket team, we just want to express our apologies to @Irelandcricket and John Mooney for the unacceptable article," he wrote on Twitter.
Mooney catch near the boundary rope brought about the dismissal of Sean Williams for 96.
The decision was checked by the television umpire to make sure Mooney's left foot had not touched the boundary marker. After a number of replays it was decided there was no conclusive evidence.
Sharuko's article has drawn strong condemnation, especially on social media, after he linked the catch to Mooney's battle with depression and alcoholism.
Mooney had previously made the honest revelations on a radio station in a bid to raise mental health issues.
"In relation to the story that has appeared in the Zimbabwe Herald, it would be easy to dismiss it as a childish diatribe if it wasn't for the vicious personal attack on John which cannot pass without comment, and possible action," said Cricket Ireland's chief executive Warren Deutrom.
"John represents his country with honour, distinction and integrity. That he does in the face of personal challenges about which he has spoken openly and movingly demonstrates incredible hard work and great courage.
"We understand, as does John, that public figures may occasionally be subject to negative comment, but in mocking John in such a contemptuous fashion, and using his personal difficulties as a mere punchline, the Zimbabwe Herald has demonstrated breath-taking crassness and a gross error of editorial judgement.
"We have made contact with ICC to understand what remedies might be available to us."