European T20 harder to win, says Guernsey captain Nussbaumer
Last updated on .From the section Cricket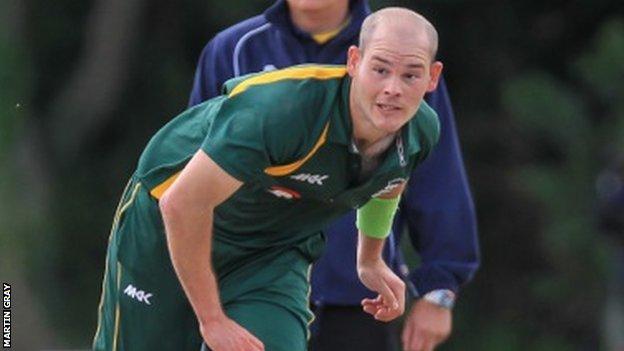 Guernsey captain Jamie Nussbaumer says the new format for the European Division One Twenty20 tournament makes it harder for the island to win.
The event has been with the winner making the global qualifying tournament for the 2016 Twenty20 World Cup.
"It makes it a bit harder," Nussbaumer told BBC Radio Guernsey.
"Italy and Denmark are World Cricket League Division Four sides, whereas we're in Division Six at the moment."
Guernsey will also face Norway, France and the hosts Jersey in the tournament from 9-13 May.
Channel Island Fixtures

Jersey
Guernsey
9 May: Norway (Farmers)
9 May: Denmark (Grainville)

9 May: Italy (Farmers)

9 May: Norway (Grainville)

11 May: Denmark (Grainville)
11 May: France (FB)

11 May: France (Grainville)

11 May: Italy (Farmers)

13 May: Guernsey (Farmers)
13 May: Jersey (Farmers)
Jersey and Guernsey both reached the semi-finals of the tournament in 2013, when the format was two groups followed by a knockout stage.
Guernsey made the knockout stages of the tournament two years ago in Sussex but who they play in their opening game.
"We've had a few games against them in the past and we've always competed and on a couple of occasions nearly beaten them in 50 overs," Nussbaumer said.
"On that day in Hove, Freddie Klokker was in the form of his life and plundered us to all parts," Nussbaumer added of the Danish skipper who hit 129 not out off 65 balls as the Danes scored 226-3 off 20 overs.
"It'll be nice to get back on the horse in T20 and hopefully lightening won't strike twice.
"The shorter the format the closer it brings the two sides together.
"But our main focus is on trying to get promoted to World Cricket League Division Five at the end of the summer, so this is a chance to go out and play some good exciting cricket and see what happens."