Bradburn stands by 'obvious' decision to send Haq home
Last updated on .From the section Cricket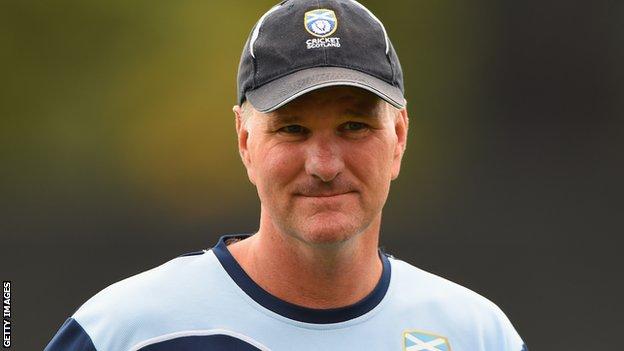 Scotland head coach Grant Bradburn says sending home off-spinner Majid Haq from the Cricket World Cup was the "obvious" course of action.
Haq tweeted: "Always tougher when you're in the minority! #colour #race" after missing out on selection for the Scots' loss to Sri Lanka.
"It became obvious what we needed to do," Bradburn told QTV Sports.
The defeat leaves Scotland still seeking a maiden World Cup victory.
"Its not the situation that we'd like to have to deal with, particularly in a tournament like this, when we're in the midst of playing the best teams in the world," added Bradburn.
"But I've been very impressed with the way Cricket Scotland have handled the situation swiftly and now it enables us to just focus on what is an exciting opportunity to play Australia on Saturday.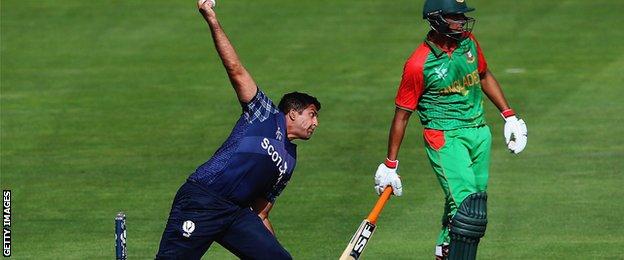 "I had the cricket conversations with Majid, as I do with all the players. As the coach, you get used to having hard conversations with players. That's my job - to have those clear conversations with players, particularly players who aren't playing.
"They're not easy to have, but you've got to give them direct clarity, honesty and show compassion and value for them as people.
"If players weren't disappointed that would be an issue for me," Bradburn continued.
"I expect them to be disappointed not to be playing. Unfortunately Maj has chosen a way to react which has contravened the values of the side and the values of his employer, Cricket Scotland."
Despite a winless tournament, featuring defeats to New Zealand, England, Afghanistan, Bangladesh and Sri Lanka on top of the off-field controversy, Bradburn remains proud of his players ahead of a daunting final fixture with Australia.
"Above all, the players have dusted themselves off after each game," he said.
"We've had some agonising pressure situations on the field; we've been agonisingly close to victory. We haven't quite earned a "W" as we would like at this point.
"The guys put in a another good shift yesterday, it was a tough game against Sri Lanka, but despite the off-field disturbances or distractions that were going on, it didn't take away from the other players absolutely looking forward to playing another top tier nation."