Cricket World Cup 2015: Ireland face biggest ever game - Ed Joyce
By Stephan Shemilt
BBC Sport in Sydney
Last updated on .From the section Cricket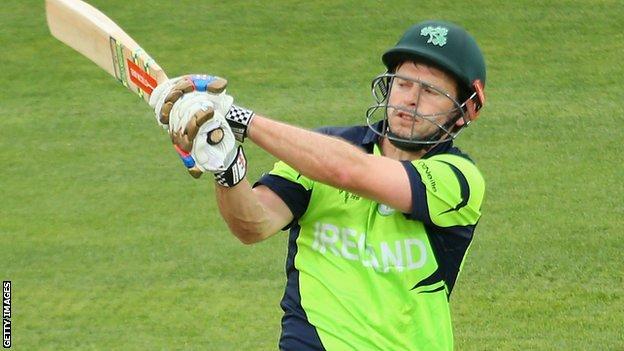 Ireland's final World Cup Pool B match against Pakistan is the biggest in their history, says batsman Ed Joyce.
The Irish, who have beaten West Indies, Zimbabwe and the UAE, will reach the quarter-finals with victory in Adelaide on Sunday.
"We came here with more expectation than previous World Cups," Joyce, 36, told BBC Sport.
"The chance to break into the quarter-finals of a World Cup definitely makes it the biggest game we've ever had."
Ireland have played in two previous World Cups, reaching the Super Eight stage on debut in 2007.
However, the International Cricket Council is planning to cut the 2019 tournament in England from 14 to 10 teams, which would make qualification for Ireland more difficult.
"We have a cause that we fight for," said Sussex left-hander Joyce.
"We are trying to grow the game at home and show the ICC the folly of keeping the next World Cup to 10 teams, not allowing nations like us ourselves a fair chance to get in."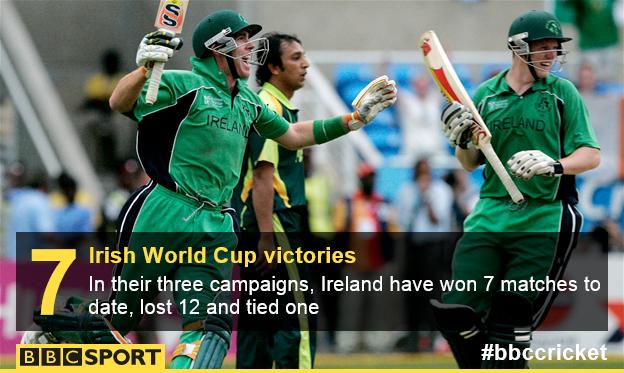 Could this be Ireland's last World Cup game?
The ICC had previously planned to cut the number of teams in the 2015 World Cup, only to push the restriction back four years.
As it stands, eight spots in the 2019 tournament will be allocated according to the ICC's ODI rankings, with the final two spots up for grabs at a qualifying event in Bangladesh.
"A 10-team World Cup isn't really a World Cup at all - it's a glorified Champions Trophy," said Joyce.
"You think Bangladesh would do well in home conditions, leaving seven or eight good sides to fight it out for one spot.
"It's really disappointing that we could be on the verge [of] Ireland's last World Cup game for a long time, either against Pakistan or in the knockouts. That's not being defeatist; it's just being realistic."
Recent World Cup structure
1999:
12 teams: nine full members plus Bangladesh, Kenya, Scotland
2003:
14 teams: 10 full members plus Kenya, Canada, Namibia, Netherlands
2007:
16 teams: 10 full members plus Bermuda, Canada, Kenya, Ireland, Netherlands, Scotland
2011:
14 teams: 10 full members plus Canada, Ireland, Kenya, Netherlands
2015:
14 teams: 10 full members plus Ireland, Afghanistan, Scotland, UAE
2019:
10 teams: Hosts England & seven other top-ranked teams, plus two from qualifying tournament
'Test cricket for Ireland is a fantasy right now'
Joyce played his first game for Ireland in 1997 but, while playing for Middlesex, he was picked by England and would represent the country of his birth at the 2007 World Cup in the West Indies.
He returned to represent the country of his birth at the 2011 World Cup and Ireland will soon have the chance to qualify for Test status.
"Cricket was an amateur pursuit when I began," said Joyce. "Looking at where we've come from, there's no reason why, in 10 years' time, we can't be an established cricketing nation, with a good cricket culture and Test cricket.
"What's more important is that we get ourselves on the map in terms of one-day international fixtures and tours. Test cricket is a fantasy unless we get consistent one-day fixtures that we compete in.
"We've performed out of our skin at this World Cup, but that's despite, rather than because of what we've had available since 2011."
Playing for England and Ireland
After helping Ireland qualify for the 2007 World Cup, Joyce switched allegiances. When he made his ODI debut in June 2006, he became the first Irishman in the modern era to represent England.
He was called up to the Test squad for the tour of Australia in 2006-07, but was not required. However, he did make an ODI century against the Aussies in Sydney, before seeing his England career affectively ended by a poor 2007 World Cup.
Joyce played no more international cricket until being given special dispensation by the ICC to play for Ireland at the 2011 World Cup.
"I don't have any regrets about anything I did with England, other than not playing better," said Joyce, who averages 47.58 in first-class cricket.
"Then again, if I played better for England, I might not be back playing for Ireland, which I'm very glad to be doing.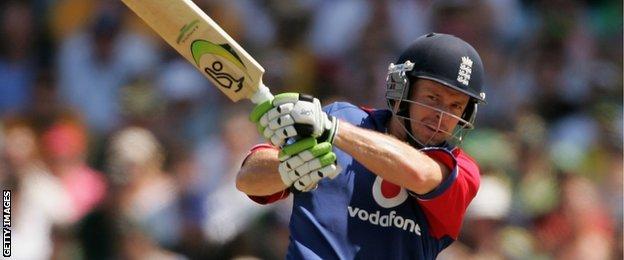 "It's not a regret, but I wish I could have been part of the Ireland team in 2007, because that was a watershed tournament for Ireland.
"If someone asked me about switching now, I would tell them to go to Cricket Ireland to see what is put in place to give a player a future in the game in Ireland.
"If that's in place, I'd say stick with Ireland and play for your country, because it's much nicer when you're playing for your own country."
Losing talent to England
Where Joyce led, Eoin Morgan and Boyd Rankin have followed.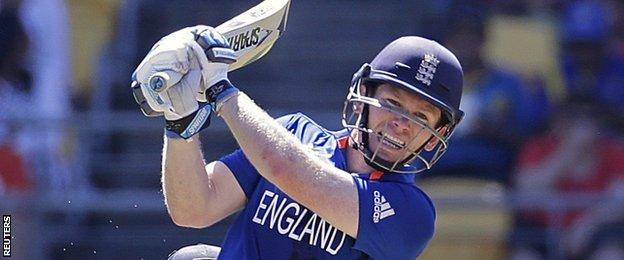 Morgan has captained England during their dismal World Cup campaign, but Rankin has not featured since making his Test debut at the end of last year's Ashes thrashing.
Before the World Cup, Ireland chief selector Alan Lewis said it was "irritating" to see Morgan leading England, but Joyce said he was more disappointed with the loss of pace bowler Rankin.
"Ireland were a good team, going places when he made the decision to switch," said Joyce. "We could really do with him now because we're lacking a little depth in our bowling.
"Obviously it would be great to have Eoin, but he's made it very clear his future lies with England and he's got very little interest in Ireland. That's his decision.
"Going forward, we want to be in the situation that it's professionally viable to play for Ireland. At the moment, that's not really in place, so I couldn't fault someone if they wanted to play for England."
'This is my last World Cup'
In forging a successful county career in England, Joyce showed the way for the likes of Morgan, Rankin, William Porterfield, George Dockrell and Paul Stirling.
As he nears the end of what will be his final World Cup, he says he has played only a "small part" in the development of Irish cricket.
"I'm very proud of my place in Irish cricket, of how many people are now playing county cricket after myself and a few others went over," he concluded.
"I'm proud that Irish cricket is now looked on with admiration by a lot of people and I've played a small part in that.
"This will certainly be my last World Cup. I'd hate for it to be Ireland's too."