Cricket World Cup 2015: England must build for 2019 - Agnew

By Jonathan Agnew
BBC cricket correspondent
Last updated on .From the section Cricket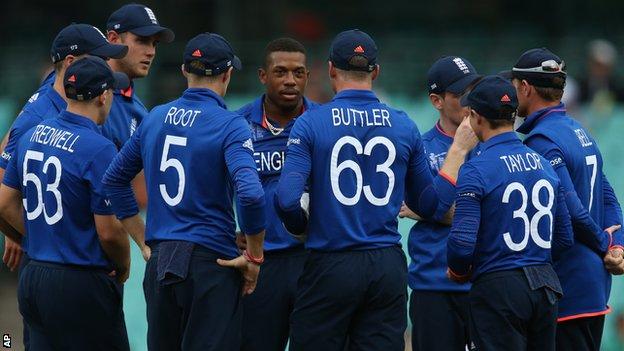 The end of a World Cup campaign signals the conclusion of a four-year cycle of one-day cricket and the beginning of the build-up towards the next tournament.
England should have reached the quarter-finals here in Australia and New Zealand.
That they haven't suggests their time here has been a really bad experience.
Which is why some eyebrows were raised at captain Eoin Morgan's comments after England concluded their tournament with a nine-wicket win against Afghanistan in Sydney on Friday.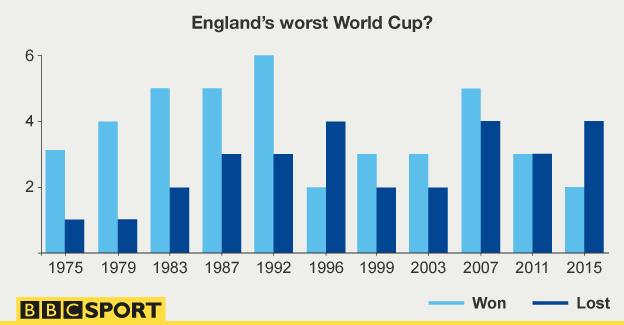 Morgan said he had "no regrets" and that his squad comprised "the right personnel". He also suggested that all of the players in the party should be considered when England return to one-day cricket after their Test tour of the West Indies.
England should actually be identifying who to move forward with. They need to look at who will still be playing one-day cricket in 2019, then build the team around those players.
The nucleus is there in the shape of Jos Buttler, James Taylor, Joe Root and Moeen Ali. But what about the likes of Ian Bell, James Anderson and Stuart Broad? Will they be playing limited-overs cricket in four years?
When England do have an idea of the squad they would like to work with, they must determine a way for them to play without the inhibitions that have been on display in this World Cup. They must find a way to go from low confidence, to high aggression.
Much has been made of the "data" and "statistics" that we have heard England refer to, but I do not think the early exit has anything to do with those things.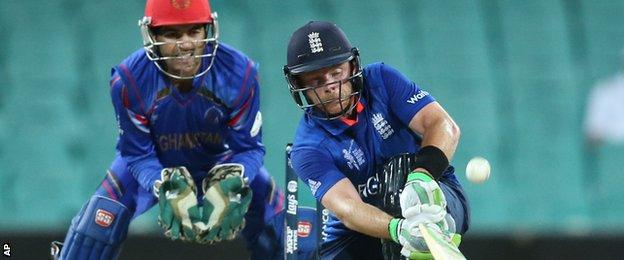 When you are playing well, the use of data is seen as good preparation. When you are losing, it is seen as a hindrance to the players. The moral? Results are what matter, not how you attain them.
On that subject, it was interesting talking to assistant coach Paul Farbrace, who said that the Sri Lanka team he led to the World Twenty20 in 2014 were more reliant on statistics than the current England team.
In a very honest assessment, Farbrace also said that England did not recover from their heavy opening defeats by Australia and New Zealand, which is hard to disagree with.
The former Kent wicketkeeper also suggested that some of the criticism aimed at Peter Moores has been unfair.
People will make their own judgement on that, but I expect Moores to lead England in the West Indies.
Former England captain Michael Vaughan
"We need the Stokeses, Billingses and Haleses of this world to come into the team. I like the look of Moeen Ali, but there's not many spinners either. To become a really good team, England need to find some high-class bowlers."
In terms of Test cricket, it was under Moores that England turned things around against India last summer. This World Cup has certainly weakened his position, but it is likely that he will be judged on the forthcoming Ashes series.
There, England have to show that they have improved from the 5-0 hammering they took in Australia last year. They don't necessarily have to win the Ashes, but they have to compete. If they do that, then we are in for an exciting summer.
Preparations for the Ashes begin in the Caribbean, with the squad for that tour set to be named next week.
There had been talk of players being rested, but that seems less likely after this poor World Cup. The returning Alastair Cook will certainly want the best squad possible, because his position is seemingly permanently under the microscope.
Ludicrously, there had been talk of allowing Joe Root to rest. This is a 24-year-old batsman. Should he need a rest? Get out of it.
England need to play their best team and win matches. It is partly through the resting of players that their one-day side have not got into the habit of being successful.
England's 2015 Test tour of West Indies itinerary
6-7 April: Two-day warm-up, St Kitts
8-9 April: Two-day warm-up, St Kitts
13-17 April: 1st Test, Sir Vivian Richards Stadium, Antigua
21-25 April: 2nd Test, Grenada National Stadium, Grenada
1-5 May: 3rd Test, Kensington Oval, Barbados
The other big talking point of that squad is the possible return of Jonathan Trott, perhaps even as Cook's opening partner.
Depending on the fitness of Moeen and Chris Woakes, England may also have to look at the spin and pace bowling options. Yorkshire's Adil Rashid may get a look-in, which would be a good move.
There is another important cricketing event taking place next week, which is the Test Match Special debut of Kevin Pietersen, who joins us for the World Cup quarter-finals.
I was surprised when people said I was opposed to Kevin joining the TMS team. Why would I be? I always look forward to working with special players because I want to know their views on the game, what makes them tick. Kevin is no different.
It is excellent for TMS that he is joining us and I'm sure he'll throw himself right into it.
Jonathan Agnew was speaking to BBC Sport's Stephan Shemilt.
Listen to the Test Match Special podcast or highlights from TMS's and 5 live Sport's 2015 World Cup coverage.