Peter Willey and George Sharp lose age discrimination case
Last updated on .From the section Cricket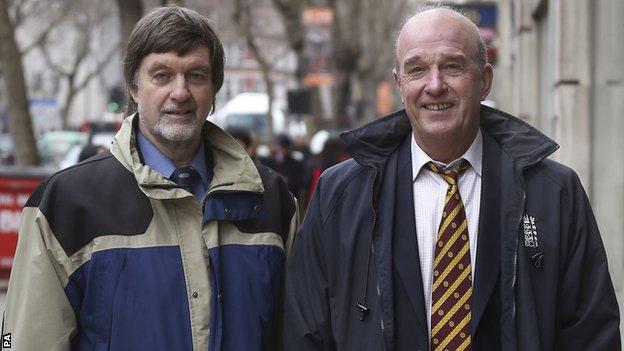 Peter Willey and George Sharp have lost their age discrimination case against the England and Wales Cricket Board.
The 65-year-old pair were removed from the first-class umpire list with both now having reached the ECB's 'expected retirement age'.
The ECB accepted the pair's age was the reason for the move, but a tribunal decided it was not a case of unfair dismissal or unlawful discrimination.
The union representing the umpires said it was disappointed by the judgment.
A statement from the union, Prospect, added they will be considering it in more depth with its members and legal counsel.
Sharp had previously told the hearing that he would only want to quit the job if he was not good enough.
"At the moment, my standards have not dropped, and at the end of the 2015 season I would know if my standards had dropped and I would go back to the board and discuss it," he said.
"If they said, 'George, your standards have dropped, you have got to go', I would say, 'thank you very much'."
But the ECB's umpires manager Chris Kelly told the tribunal that the board had taken the right decision, citing "physical and mental pressures" associated with the £51,270-a-year job.
"At that age it's not easy to stand for long games. A lot of older umpires have told me they feel the days are getting longer," he said.
Willey is a former chairman of umpires who officiated in 25 Test matches during a playing and umpiring career that spanned 49 years.
Sharp and Willey have 45 years of elite umpiring experience between them.