Who will win Cricket World Cup? View from Test Match Special box
By Stephan Shemilt
BBC Sport in Melbourne
Last updated on .From the section Cricket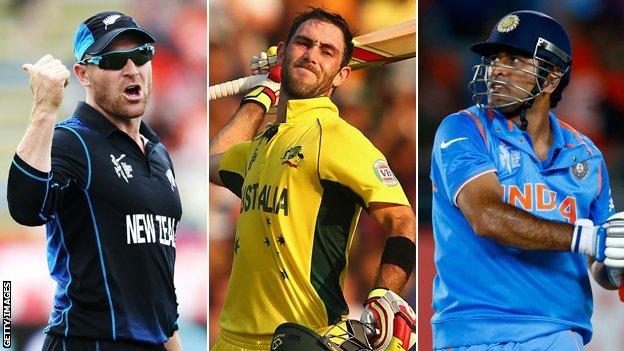 It has taken four weeks, but the World Cup has finally whittled 14 teams down to eight and is poised for the knockout stage.
The first month in Australia and New Zealand has seen record-breaking batting, hard toil for the bowlers, spirit from the non-Test playing sides and humiliation for England.
As the tournament prepares for the quarter-finals to begin on Wednesday, a range of Test Match Special pundits look back on the first round, ahead to the last-eight ties and predict who will lift the trophy in Melbourne on 29 March.
Has it been a good World Cup?
BBC cricket correspondent Jonathan Agnew: "Yes, despite it being too long and not building any momentum, particularly within Australia. The standard of cricket has been very high, including the Associates. The only disappointment is that we should rattle through it quicker - some teams have had eight days off, which is ridiculous."
Former England captain Michael Vaughan: "It's being played on the best wickets in the world, which is why we're seeing great shots from the batsmen. The pitches have been fantastic for strokeplay and they also reward bowlers with pace - if you zip it down, you'll get something out of these decks."
Former England off-spinner Vic Marks: "I still have reservations about the length, but we've had some good, close games. It has raised questions about whether a 10-team tournament is right next time, even if the likes of Scotland and the United Arab Emirates ran out of steam."
Who has impressed?
Former South Africa off-spinner Johan Botha: "New Zealand have bowled really well in home conditions. They have swung the ball and Daniel Vettori has been excellent with his left-arm spin, controlling the game. The same can be said for Australia with their aggressive bowling line-up."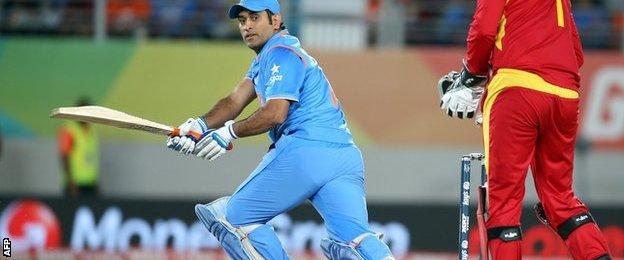 Agnew: "I saw AB de Villiers destroy the West Indies, but in that ridiculous situation, I saw great character from Windies captain Jason Holder. I like the look of him and I think he will be a good cricketer."
Vaughan: "The India attack has really surprised me. In the tri-series with Australia and England beforehand, they looked like a pub team - you thought they would struggle. Now, the likes of Umesh Yadav and Mohammed Shami are bowling with pace and being well managed by MS Dhoni. What is it about Dhoni? It's like he gets to the big tournaments and sprinkles the magic dust."
Apart from England, who have been disappointing?
Botha: "South Africa are a concern, especially their batting. They've been tentative in the first 10 overs, trying to set it up for De Villiers to come in and finish it. He's done that a couple of times, but when he hasn't, they've fallen short, especially when chasing.
Former Australia coach Tim Nielsen: "De Villiers has been outstanding, but South Africa can't just leave it all to him. Dale Steyn and Morne Morkel, the senior players, need to stand up and say 'we're going to soften up the opposition so you don't have to chase 300'.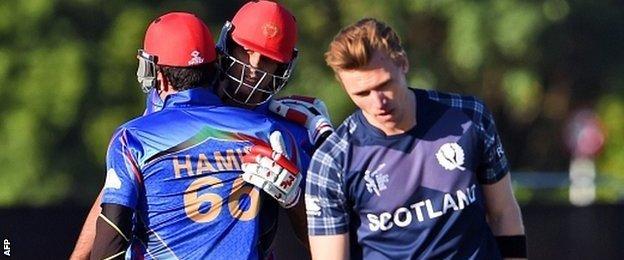 Marks: "Scotland would reckon they are better than they have showed. The killer was losing to Afghanistan by one wicket. If they'd won that, they might have played better in the rest, so I suspect they are slightly disappointed. You could have said the West Indies, but they have reached the quarter-finals."
The quarter-final showdowns
Sri Lanka v South Africa (Wednesday, Sydney, 03:30 GMT)
Vaughan: "South Africa have never won a knockout game. They will want to win the toss and get something on the board because they have lost on both occasions they have been asked to chase. I don't understand how panicky they become when they chase, there's too much talent there for that. Sydney will offer a bit for the spinners and Sri Lanka will have Rangana Herath back. I'm backing Sri Lanka."
World Cup quarter-finals
South Africa v Sri Lanka,
Sydney, 18 March
Bangladesh v India,
Melbourne, 19 March
Australia v Pakistan,
Adelaide, 20 March
New Zealand v West Indies,
Wellington, 21 March
Botha: "Everyone talks about South Africa losing these games and it just becomes a bigger and bigger issue. Until they win a game in that situation, it's always going to be there. The worry for Sri Lanka is their bowling and if South Africa can get away to a good start, Sri Lanka captain Angelo Mathews should be concerned."
Bangladesh v India (Thursday, Melbourne, 03:30 GMT)
Vaughan: "I'm just looking forward to the atmosphere. India are looking strong through the way that Dhoni gets his team up for it and how the pieces of the jigsaw seem to be fitting together. They are going to take some beating."
Nielsen: "You can't see a way for Bangladesh to win this, only because of the way India have been playing. Bangladesh shouldn't be underestimated, especially after what they did to England, but India should have a bit too much class."
Botha: "The only chance for Bangladesh would be to do something similar to the England game; make 270-plus, then maybe get through the India top order to put pressure on the rest of the India batting."
Australia v Pakistan (Friday, Adelaide, 03:30 GMT)
Vaughan: "I hate to say it, but I think Australia will win quite easily. The Pakistan attack is decent, with pace and a bit of leg-spin from Shahid Afridi, but the way Australia lost to New Zealand told me so much about how strong they are. They batted poorly, yet only lost by one wicket. They will not bat that badly again. On top of that, Mitchell Starc is on fire."

Agnew: "Pakistan have a very good bowling attack, especially if they can get Mohammad Irfan fit, but their batting can be erratic. You imagine that Australia will win this, but you're never entirely sure that Pakistan will be beaten."
Marks: "Pakistan are on a good roll and, in their win against Ireland, we saw reverse swing for the first time in the tournament. However, I just don't feel they've got the batting. So, unless the Pakistan bowlers have a great day, you expect Australia to win."
New Zealand v West Indies (Wellington, Saturday, 01:00 GMT)
Botha: "A lot will depend on left-hander Chris Gayle. Wellington isn't the biggest ground so he's got a chance of doing something special. That's what the Windies have to hope for. They have to bat first, post something big and then create the pressure."
Marks: "New Zealand are the favourites, but if West Indies can get through 10 overs without losing a wicket, they have a chance. It would take some doing, mind. It's a free game for the Windies, because they didn't look like getting through. They shouldn't win, but they have a couple of players that can sway a game."
Who will lift the trophy?
Agnew: "I'm still picking Australia, because they have the resources and the belief that they will go on to win it. An Australia v New Zealand final would be a reflection of the two teams that have played the best cricket so far and I hope New Zealand get there because they have been an outstanding team and hosts."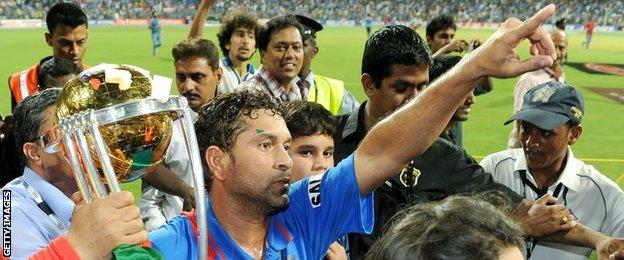 Former England batsman Geoffrey Boycott: "I'm sticking with Australia as my tip to win it. New Zealand and South Africa could also be in the final. South Africa have talent - De Villiers is the best batsman in the world."
Marks: "I said South Africa before the tournament so I should stick with them. They haven't been the most impressive side, but teams very rarely go through a World Cup without losing a game."
Listen to highlights from Test Match Special's and 5 live Sport's 2015 World Cup coverage.
Pool A

Team

Played

Won

Lost

N/R

R/R

Points

Q

New Zealand

6

6

0

0

+2.56

12

Q

Australia

6

4

1

1

+2.26

9

Q

Sri Lanka

6

4

2

0

+0.37

8

Q

Bangladesh

6

3

2

1

+0.14

7

5

England

6

2

4

0

-0.75

4

6

Afghanistan

6

1

5

0

-1.85

2

7

Scotland

6

0

6

0

-2.22

0
Pool B

Team

Played

Won

Lost

N/R

R/R

Points

Q

India

6

6

0

0

+1.83

12

Q

South Africa

6

4

2

0

+1.71

8

Q

Pakistan

6

4

2

0

-0.09

8

Q

West Indies

6

3

3

0

-0.05

6

5

Ireland

6

3

3

0

-0.93

6

6

Zimbabwe

6

1

5

0

-0.53

2

7

UAE

6

0

6

0

-2.03

0