David Saker takes head coach role at Melbourne Renegades
Last updated on .From the section Cricket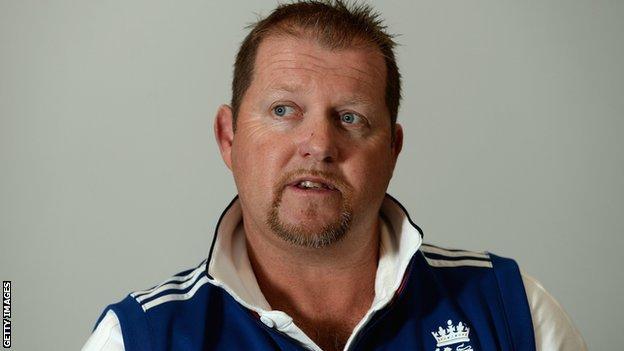 England bowling coach David Saker has been appointed as the new head coach of Big Bash League side Melbourne Renegades.
The Australian replaced Ottis Gibson as England bowling coach in April 2010, and went on to help them win two Ashes series and the 2010 World T20.
Saker, 48, has a contract with England until September but could leave before the end of the Ashes summer.
"I think it's time for us to return home," Melbourne-born Saker said.
Saker, who played 72 first-class matches for Victoria and Tasmania, says he is looking forward to taking over at Melbourne "upon finalisation of his England coaching duties".
"I'm very excited to join the club and come back to Melbourne - which is home - and work with everyone involved," Saker told the Melbourne Renegades official website. "The Big Bash League is being talked about worldwide in cricket circles and it's great to be back working in the T20 format."
Saker says he is making the move to broaden his coaching range and to take responsibility for building his own side in a head coach role.
"I'm not interested in being the bowling coach for any team at the moment," he told the Sydney Morning Herald.
"I'd like a chance to run a Sheffield Shield team if the opportunity comes up, but at the moment I've only got the Renegades job. I'll be moving back at the end of the [English] summer, if not earlier."