Cricket World Cup 2015: ICC must have World Cup rethink
By Gary Wilson
Ireland wicketkeeper
Last updated on .From the section Cricket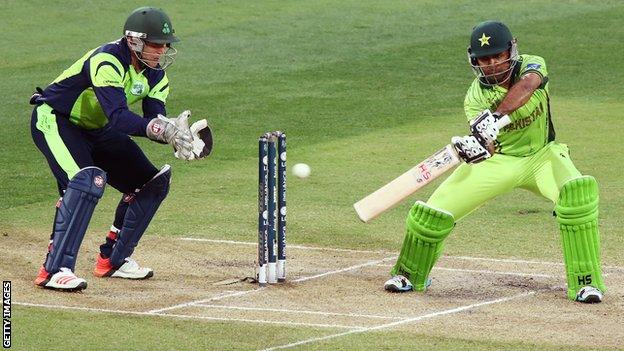 Ireland and Surrey wicketkeeper Gary Wilson reflects on the group-stage exit at the World Cup
The dust has settled on our World Cup campaign and it's actually pretty hard to know what to make of it.
We have beaten two teams who are in the top 10, but ultimately we've failed to qualify for the quarter-finals.
It was disappointing to go out the way we did. Against Pakistan we didn't play our best game and that's pretty tough to take.
We'll never know if our best game would have been good enough now, but it would have been nice to have gone out on better terms.
Our total of 237 was never really enough and, despite a brilliant knock from William Porterfield, we kept losing wickets at the wrong time. Pakistan never let us back in and that was to their credit.
I think we can still be proud of our achievements at this World Cup. We seemed to capture the hearts of many, not just in Australia but throughout the world and that is something we can be proud of.
To see the support that we received throughout the tournament was very heart-warming and it was something that we hugely appreciated.
Even up until the last ball was bowled on Sunday, our fans were awesome.
There has been so much made of the decision by the ICC to reduce the next World Cup from 14 teams to a 10-team competition.
I don't know who is responsible for the decision but I simply don't see how that will not be reversed.
The support from the media, commentators, fans of the game and indeed legends of the game coming out and saying that the need for 14 teams in the next World Cup is apparent.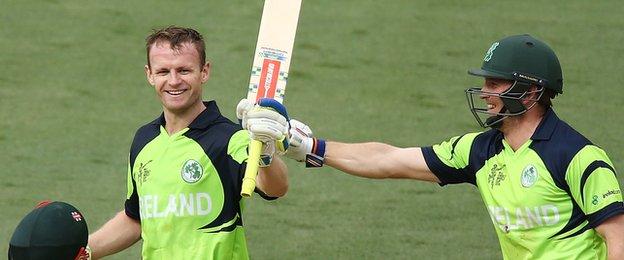 It is so important for the growth of the game in Ireland and indeed other countries who aren't in the top eight.
In terms of sponsorship, it can't be underestimated how important participation is.
We are talking about sums of money that are instrumental in not only the growth of the game but actually the continuation of the game at the top level.
Let's get one thing straight - the fact that we have done reasonably well in this latest edition has simply given us a voice to raise our concerns.
If we had lost six games the same principles would have stood, just no one would have been listening.
There is also the danger that when the World Cup finishes people will go back to their lives and possibly it will slip to the back of their minds.
Commentators will go back to their respective countries, journalists will focus on their own teams and before we know it, it could pale into insignificance.
Our message to them is to please keep knocking on the door of the ICC. We've seen in the past what public opinion can do with regard to this tournament, which was originally also meant to be only 10 teams.
This is obviously something close to our hearts, that's why it means so much.
We don't profess to be world-beaters. But we know we are a good side with good players and maybe, given the right opportunity and more exposure at the top level, in 25 or 30 years' time you might see an Irish team in the final of a World Cup - or better still coming home with the trophy.
Cricket World Cup, Pool B

Team

Played

Won

Lost

N/R

R/R

Points

Q

India

6

6

0

0

+1.83

12

Q

South Africa

6

4

2

0

+1.71

8

Q

Pakistan

6

4

2

0

-0.09

8

Q

West Indies

6

3

3

0

-0.05

6

5
Ireland
6
3
3
0
-0.93
6

6

Zimbabwe

6

1

5

0

-0.53

2

7

UAE

6

0

6

0

-2.03

0
We're building something for Irish cricket. Nothing would fill us with more pride than to say in 40 years' time that we laid the very early foundations that allowed Irish cricket to flourish.
It was not so long ago that our rugby counterparts were the laughing stock of world tournaments. Look at them now - they go to England in October with a genuine chance of bringing back a World Cup.
We have shown that there is a market for cricket in our country, not least last year when we sold out Malahide on a weekday for the England game.
The Irish public get behind their teams no matter what the sport and that has been so evident in the last six weeks.
Give us that opportunity, ICC, give us the chance to show that our country has something to give the cricketing world.
They talk about the growth of the game being important but how can you grow the game when you are reducing the number of teams in your flagship tournament?
We aren't just a 'flash in the pan', a team that every four years turns up and creates the odd upset.
We have a greater win percentage against teams in the top 10 than both England and Zimbabwe over the last four World Cups and this with minimal cricket in between these tournaments.
Nine games against top opposition in four years, just nine games! Test countries get that in a few months.
There is a real opportunity here to create something. Don't let pass it by, ICC.