Kent 'may not sign overseas player' despite 2014 profit
Last updated on .From the section Cricket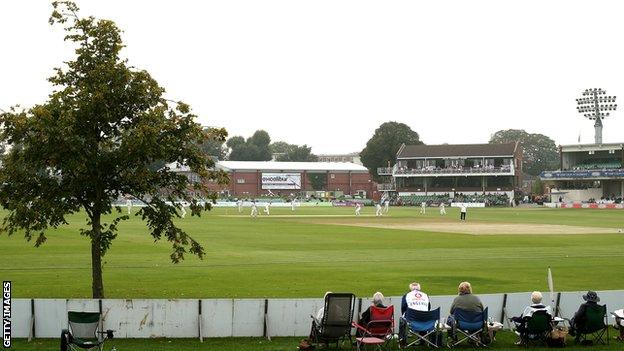 Kent might not sign an overseas player for the new county season despite announcing a pre-tax profit of £1.25m for the year to October 2014.
Chief executive Jamie Clifford told BBC Radio Kent that the club were happy with the existing squad.
"Fourteen of the 23 players are home-grown and I think some of those will go on to play for England," he said.
"If you can produce your own players rather than importing from overseas it puts you in a much stronger position."
He continued: "We are backing our players to go on and continue to make strides. That creates a sustainable culture around player development."
Once interest, tax and depreciation are taken into account, the club achieved a net profit of £658,437, which Clifford described as "another year of improvement".
Meanwhile, the club are close to completing redevelopment work at their out-ground at Beckenham.
Kent are still seeking planning permission to redevelop the Old Dover Road side of the The Spitfire Ground, St Lawrence at Canterbury in order to build retirement apartments.
"That is the only cloud over us at the moment," Clifford added.
"If and when that goes through, we will be in a super position in terms of our financial stability. We will have paid off a considerable amount of debt and our interest payments will be down."