Cricket World Cup 2015: South Africa players 'hurting' after defeat
Last updated on .From the section Cricket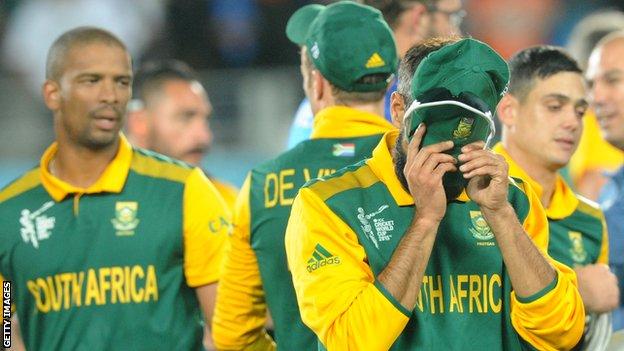 South Africa captain AB de Villiers says his players have "sore hearts" after they lost to New Zealand in the semi-final of the Cricket World Cup.
The Proteas were beaten by four wickets as New Zealand reached their Duckworth-Lewis adjusted target of 298 with only one ball to spare in Auckland.
De Villiers scored 65 not out as his side made 281-5 in a 43-over match.
"It was an amazing game. We're hurting and it will take us a long time to get over this," said the 31-year-old.
"We play for the people back home, hopefully the passion we showed made a difference and people can still be proud of us.
"I couldn't ask for anything more, we left it all out on the field. It is really painful - we go away with sore hearts."
Faf du Plessis made 82 after South Africa won the toss as they reached 216-3 from 38 overs before a two-hour rain delay saw the match reduced to 43 overs per side.
South Africa's past mistakes
1999:
Semi-final. South Africa needed one run off the final four balls against Australia at Edgbaston, but number 11 Allan Donald was run out with two balls to spare as the match ended in a tie, and elimination.
2003:
Group stage. Shaun Pollock thought his side had beaten Sri Lanka on D/L. They hadn't - they had tied - and South Africa were out.
2007:
Semi-final. South Africa were bowled out for 149 as they slipped to a seven-wicket defeat by Australia in St Lucia.
De Villiers was on 60 not out before the stoppage and could only score another five runs in the five overs after the break, although team-mate David Miller blasted 49 off 18 balls.
In reply, New Zealand captain Brendon McCullum hit 59 off 26 deliveries before an unbeaten 84 from Grant Elliott saw the co-hosts reach 299-6 to win a thrilling contest and reach their first World Cup final.
This was South Africa's fourth World Cup semi-final defeat after previous losses in 1992, 1999 and 2007.
Asked whether the fact he had played in one of the World Cup's greatest games had been any consolation, a tearful De Villiers said: "It doesn't make me feel better at all.
"My goal is to win games of cricket, to take glory home, and make a difference in the nation's heart. We didn't achieve that. We had our chances and didn't take them.
"Lots of people were supporting us. We wanted to take that trophy back home. But life moves on, the sun will come up tomorrow."
Listen to highlights from Test Match Special's and 5 live Sport's 2015 World Cup coverage.