Hope Kareta: How India's 'Hope' may be Australia's future
By Nitin Srivastava
BBC Hindi in Melbourne
Last updated on .From the section Cricket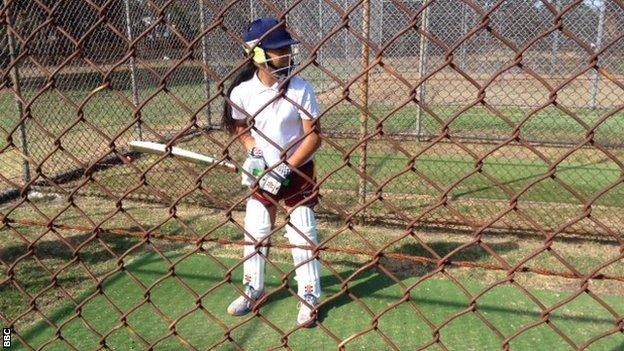 There is a new young cricketing star making waves in the small, remote Melbourne suburb that provided Australia with Peter Siddle and Cameron White. The difference is that she's a girl - and she's scoring centuries for the boys' team.
Dandenong is a dusty, shabby place of around 29,000 people some 30km from Melbourne's city centre. But it is also a breeding ground for Australian cricketing talent.
As well as fast bowler Siddle and all-rounder White, fellow internationals James Pattinson and Ian Harvey all spent their formative years in the area. Shane Warne, the second-highest wicket-taker in Test history, is from nearby St Kilda.
But the latest name from the town to have cricket fans talking is that of a young girl of Indian-Australian origins. Even more extraordinarily, Hope Kareta, 12, only picked up a bat in January.
When Hope's younger brother's team, Dandenong West under-13s, realised they were short of players before the district championships, Hope hesitantly raised her hand.
After a nervous start, she suddenly found herself scoring runs at will. Within seven games she had scored a century.
"I was not sure initially but then picked up how to middle the faster deliveries," she told the BBC's Hindi Service.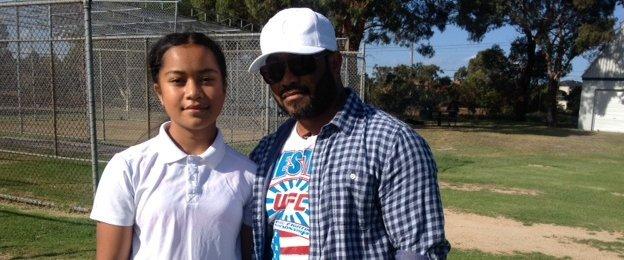 "I am enjoying it now. My dream is to play for the Australian women's cricket team one day."
Hope's 100 not out came from 87 balls, with 15 fours, against Hampton Cricket Club. But later that day, it was business as usual for the family of three sisters and a brother.
They went back home from the Dandenong grounds, had supper and were all in school the next day. Her father was back on school run duty and her mother went to work as usual as a store supervisor.
Yuvraj Ghaleed, her father and former rugby player, was born to an Indian father and a Maori mother in New Zealand.
Hope's mixed background has led her to support both Australia and India during the World Cup - until their paths cross in Thursday's semi-final in Sydney.
Her father says he is surprised by the dedication Hope has shown not only towards cricket, but also to her studies and other sports at the same time.
"I always dreamt of Hope making it big in athletics and especially long-distance running," says Yuvraj. "But looking at what she has achieved in just over two months I had better support her by getting the best cricket coaching for her."
Although Hope aspires to be a prominent batter one day, her skills as an all-rounder have also begun to blossom. Only last week she took her first five-wicket haul.
Jason Goodes, the coach of the Dandenong boys under-13 team, is full of praise for his find.
"We have seen many boys play and excel at this level - but for her to compete along with them is not only extraordinary but commendable," he says.