Cricket World Cup 2015: New Zealand fan's mammoth trip
Last updated on .From the section Cricket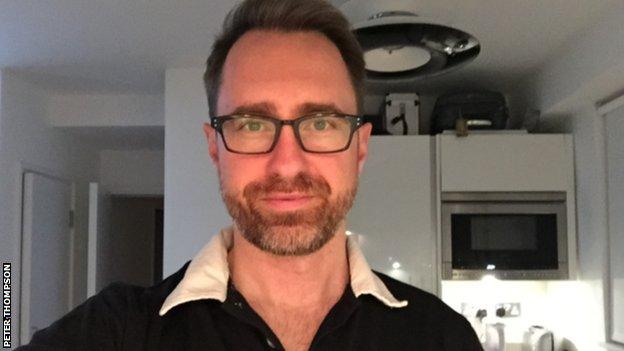 There is nothing quite like a relaxing weekend trip abroad to watch the team you love.
But do you love a team enough to endure a 21,000-mile round journey in under three days?
London-based Peter Thompson has signed up to just that to watch his country - New Zealand - in the World Cup final on Sunday.
He will spend 21 hours in flight after departing on Friday night and will pass through 11 different time zones before catching up with friends, watching the big match then getting back on a plane to London in time for an important meeting at work on Tuesday morning.
"It all started on the opening night of the World Cup," explains Thompson, 41. "My friend in Australia and I made a pact that if it was an Australia v New Zealand final, I would get a flight."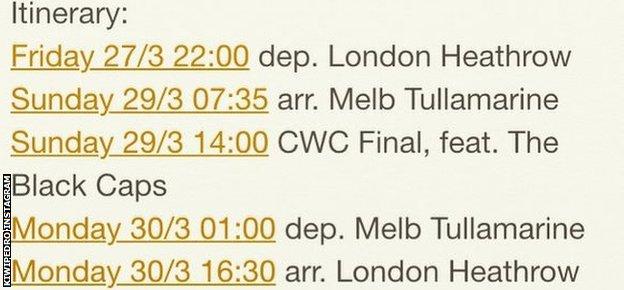 The dream final for the friends is not yet guaranteed as hosts Australia face a semi-final against holders India on Thursday to set up the meeting with rivals New Zealand.
Thompson, who works in the City of London, is packing light for the short trip and will travel regardless of the outcome of Australia's semi-final with India.
"I'm trying to count how many pairs of underpants I have to take, two or three - I'll go three to be safe," he added. "Some socks, a short trouser as it's hotter than London, toothpaste, toothbrush, that's it."
His friends have promised a game of "back-yard cricket" should Sunday's final be rained off but, despite their hospitality, Thompson holds nothing back when describing what beating Australia in the final would mean to his country, who have never won the World Cup.
"I don't think there are words to describe the joy that would be felt," he added. "I wouldn't be flying back to London, but floating on a cloud."