World Cup not 'window dressing' for associate members - ICC
Last updated on .From the section Cricket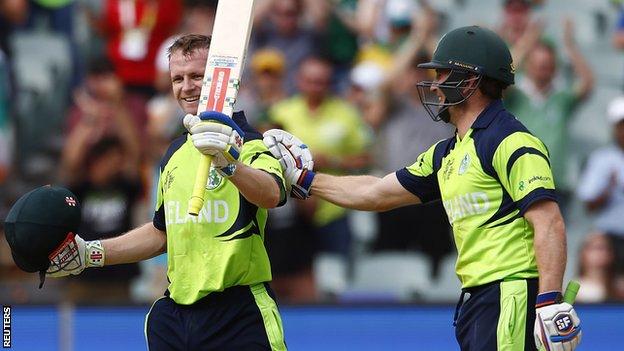 The development of associate members must go beyond the 'window dressing' of a World Cup, the International Cricket Council chief executive insists.
The 2019 World Cup will be reduced from its current 14-team format to 10, which has prompted criticism from associates.
But the ICC's David Richardson said they were concerned for UAE at this year's event and sent them on a training camp to avoid "annihilation".
He wants the associate teams to play more matches to gain experience.
Richardson told BBC Test Match Special: "We have to make sure we don't put associate members into tournaments just for window dressing.
"We must ensure Ireland and Afghanistan get more resources and play more full members on a more regular basis."
Numbers game
Ireland played five one-day internationals in 2014; England played 25
This year's World Cup, won on Sunday by Australia, featured the 10 full member teams plus Ireland and Afghanistan, who qualified through the World Cricket League, plus Scotland and the United Arab Emirates, who secured their places through a qualifying tournament.
The 2019 World Cup will be comprised of the top eight in the ICC rankings plus two teams from a qualifying event to be held in Bangladesh in 2018.
Ireland, who beat full member sides West Indies and Zimbabwe in this year's tournament but narrowly missed out on the quarter-finals, criticised the reduction, with batsman Ed Joyce saying: "We seem to be the only sport that has a World Cup that is contracting rather than expanding.
"Opportunities are obviously dwindling for sides outside the elite and that's obviously not ideal for trying to grab the game at home. There is an appetite, but we need an opportunity."
But Richardson told TMS: "The matter will be discussed again at future ICC meetings. As it stands we've entered into an agreement with broadcasters for a 10-team World Cup.
"I want it to be a shop window for the best teams in one-day cricket - whether that be eight teams, 10 teams or 12 teams.
"The debate will still be had as to whether we have 10 or increase it.
"It's more about giving opportunities to everyone and giving more money to the likes of Ireland and Afghanistan so they can compete against full members.
"We're putting money into these teams hoping we'll genuinely have 14 rather than eight teams capable of competing."