Lord's Father Time weather vane damaged by high winds
Last updated on .From the section Cricket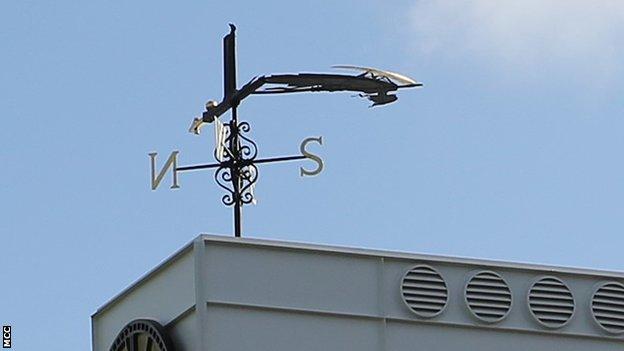 Lord's cricket ground's famous Father Time weather vane has been damaged by high winds in London.
The weather vane, which was given to the MCC in 1926 by the architect of the Lord's Grand Stand, Sir Herbert Baker, has been bent to a 90-degree angle from its original position.
Specialists are working to repair the damage as soon as possible.
This is the second time Father Time has fallen foul of the elements after it was struck by lightning in 1992.
It was also damaged during World War II, when it was wrenched from its original perch after becoming entangled in the steel cable of a barrage balloon before being re-attached to the top of the Grand Stand.
It was moved to its current location at the top of the Mound Stand in 1996.
Following the incident, the Lord's Twitter account tweeted: "I was felled by high winds last night! Ouch!"