Cricket World Cup: Door shut in Ireland's faces - William Porterfield
Last updated on .From the section Cricket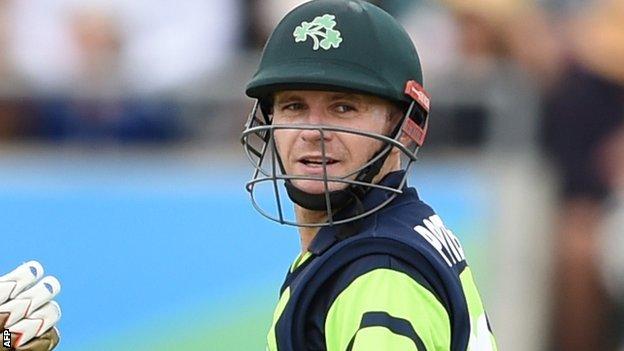 Ireland captain William Porterfield says the International Cricket Council's plan to cut the number of teams at the next World Cup is "like shutting the door in their face".
Ireland narrowly missed out on a last-eight place in 2015 and may not feature at all in 2019, when the tournament is set to be reduced from 14 to 10 teams.
"To have a door seemingly shut in your face is frustrating," he told BBC WM.
"I can't get my head round it. Not only me, but a lot of high-profile players."
The Warwickshire opening batsman added: "The likes of Sachin Tendulkar, Rahul Dravid and Mahela Jayawardene, and a lot of the commentators out in Australia for the World Cup - they have all been saying that in the cricket world.
"We seem to be the only sport looking to contract numbers. We should be looking to expand like a number of other sports are doing, like rugby and football."
Ireland's results at the 2015 World Cup

Opponent

Venue

Result

West Indies

Nelson

Won by four wickets

UAE

Brisbane

Won by two wickets

South Africa

Canberra

Lost by 201 runs

Zimbabwe

Hobart

Won by five runs

India

Hamilton

Lost by eight wickets

Pakistan

Adelaide

Lost by seven wickets
Despite being only associate members of the ICC, Ireland have caused shocks with victories over Test nations in three successive World Cups.
They beat Pakistan in the Caribbean in 2007, then overturned England in Bangalore in 2011 before enjoying victories down under this time around against West Indies and Zimbabwe.
But their seven-wicket defeat by Pakistan cost them a quarter-final place on net run rate, having won half of their six Pool B games.
Despite that, it will be made less easy to qualify next time round.
Only eight places will be allocated according to the world rankings in England in 2019, leaving Ireland to compete for the two remaining spots in a qualifying competition in Bangladesh.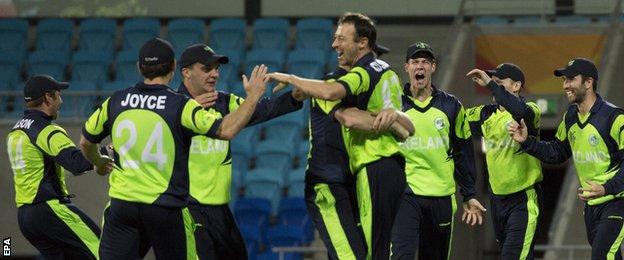 If they fail to qualify, it would be the first World Cup without Ireland since 2007 - and, although the ICC have recommended that they set up more fixtures against the world's major Test-playing nations, Porterfield is not impressed.
"They're trying to sugar coat things," he said. "It's very hard for us to organise fixtures against full members. They have a very busy schedule.
"There's a buzz around in Ireland over the things we've done over the last few years, but every time we take a step forward, they seem to take a bit away from us. They're making it very hard for us to qualify."
The Cricket World Cup calendar
The next World Cup is scheduled for 2019, when it is due to return to England for the first time in 20 years. England staged the first three in 1975, 1979 and 1983 - and again in 1999. It has also been held in Pakistan and India (1987), Australia/New Zealand (1992), Pakistan/Sri Lanka/India (1996), South Africa (2003), West Indies (2007) and India/Sri Lanka/Bangladesh (2011), before returning to Australia and New Zealand (2015).
Warwickshire and Ireland opener William Porterfield was talking to BBC WM's Richard Wilford.