James Tredwell: Lack of World Cup action surprises Kent spinner
Last updated on .From the section Cricket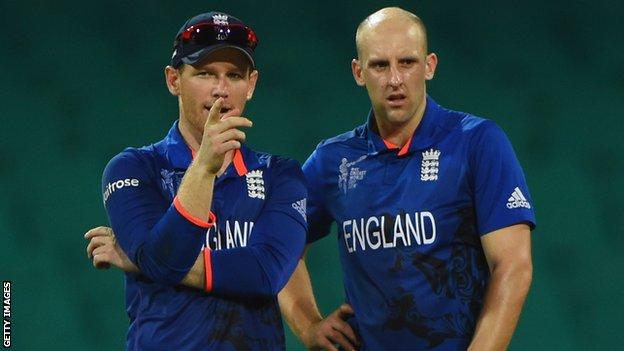 Kent spinner James Tredwell says he was surprised he did not play more for England at the World Cup.
"Before going on the trip I had real thoughts I would feature quite a lot and have almost a leading role," he told BBC Radio Kent.
"To hardly feature at all was a bit of a surprise, if I'm honest."
Tredwell, who has played 45 one-day internationals, featured five times in the ODI series defeat by Sri Lanka at the end of last year and appeared in two of England's World Cup warm-up matches in Australia.
The off-spinner, who has taken 60 ODI wickets at an average of 27.76, says he found being left out of what was a struggling side hard to take.
"Initially you think you'll see where they are going but as it goes on the frustration grew a bit," he said.
"It is a tough scenario to be in and one I didn't enjoy.
"We certainly had higher aspirations and on a personal note I would have liked to feature a hell of a lot more.
"I've done alright over my career for England and like to think I've not let anyone down."
Despite his lack of action in Australia and New Zealand, Tredwell has been named in the England squad for the upcoming Test series in the West Indies.
His sole Test appearance came in Bangladesh in 2010 and he is hopeful the national team can move on from their disappointing World Cup campaign.
"We have got to put it behind us as quick as we can. If good things can come from that bad experience, then so be it," Tredwell said.
"There are some fine players in the West Indies and we will have to get our 'A game' out to get results."
England in the West Indies
6-7 April: v St Kitts & Nevis Invitation XI, St Kitts
8-9 April: v St Kitts & Nevis Invitation XI, St Kitts
13-17 April: 1st Test, Sir Vivian Richards Stadium, Antigua
21-25 April: 2nd Test, Grenada National Stadium, Grenada
1-5 May: 3rd Test, Kensington Oval, Barbados